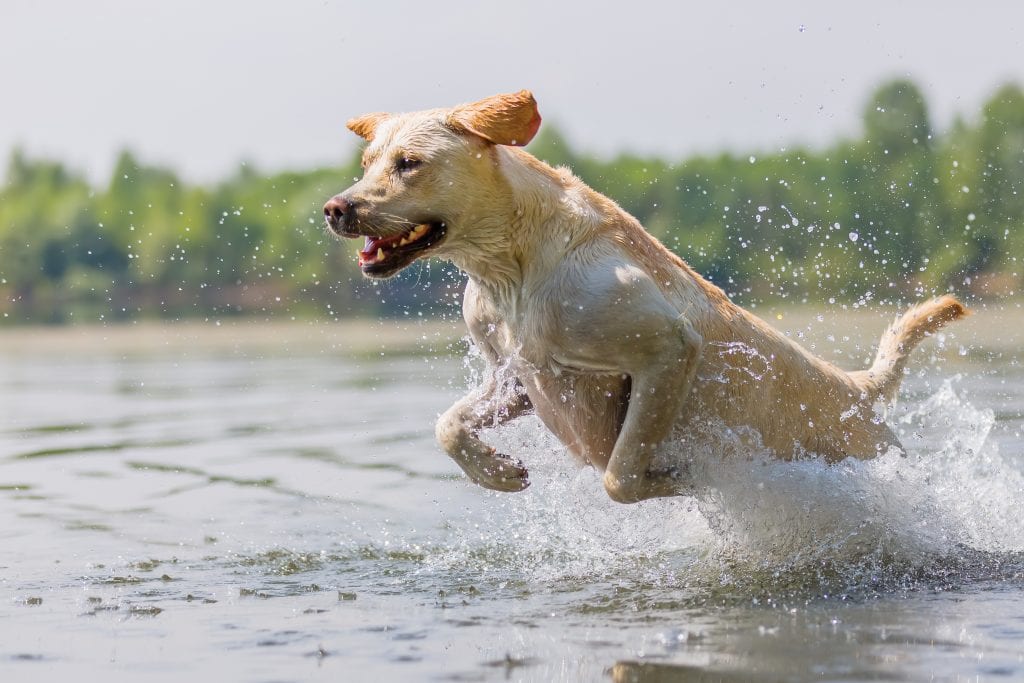 Sweet summertime! Boy, am I excited that summer is finally here!? I love all the sun, being outdoors, and splashing around the doggy pools at daycare with my best buddies. The pool is a BLAST, and it helps us stay cool in the hot Savannah months. Some of my friends even get to swim in the ocean or bigger pools with their humans! It's a great time for all, but it can be very dangerous if the proper precautions aren't taken. So I, THE Original Hipster Hound, Rex, have put together the water safety guide below to help both humans and dogs have fun in the water all summer long!
Swimming Basics
Although you may think all dogs are natural-born swimmers, that isn't always the case. There's no sure way to gauge your furry friend's swimming skills until you introduce him to the water.
First, you'll want to choose a quiet, shallow spot in the water to begin teaching him the basics. You'll also need to get into the water with your dog and keep his leash on to stay close to each other. As you walk deeper in the water, your dog should begin to paddle with his front legs. You can then lift his hind legs to show him how to float. Keep the lesson positive and stress-free for both you and your dog.
However, if you notice that your dog is hesitant or anxious in the deep end, just stay in the shallow until his stress eases. Repeat these steps for each swimming lesson, and soon your dog will be confident and ready to swim on his own!
Equipment
No matter how seasoned a swimmer your dog is, having him wear a lifejacket could be one of the best things you do. Just like humans, dogs can tire in the water. If they are in the ocean, there can be strong undercurrents or rip currents which can cause fatigue sooner. A quality life jacket will keep their head above water and lessen their fatigue. Veterinarians recommended that all dogs around water sources wear a life jacket. I recommend the Kurgo Surf N Turf Dog Life Jacket from The Hipster Hound. It comes in five different sizes from x-small to x-large for the perfect fit for your pup.
At the Beach
There are plenty of dog-friendly beaches within driving distance of Savannah. So while you enjoy the sand and surf with your dog, you also need to be very aware of your surroundings. Strong currents and riptides, can put even the best swimmer in danger when seas are rough.
While your dog is paddling around, he may become thirsty, but don't let him drink the ocean water because it can make him sick! Bring some fresh water to keep him hydrated. The Messy Mutts Travel Bottle With Silicone Flip Up Bowl from The Hipster Hound is the perfect water bottle/bowl combo.
Your curious pup might find some fish or other sea critters washed up on the shore. They may smell great to a dog, but don't let him eat or chew on anything he finds. It could cause choking or even illness, ending your day of fun in the sun!
In the Pool
Us dogs sure do love a good backyard pool, but to keep it doggy friendly, humans should take several precautions before we hop in. A fence surrounding the entire pool and sturdy pool cover will keep dogs out when it's not swimming time yet. The most important part of pool swimming for dogs is that they know how to get out. A ramp or steps are the best as ladders are not scalable by dogs.
Post-Swim
After frolicking in the ocean or pool, the day isn't over just yet. Dogs should be rinsed off and towel dried to remove any seawater minerals, salt, chlorine, algae, and pollution that can irritate or damage their skin and fur.
As all dog parents know, most dog ears are prone to infection, especially when submerged in water. Moisture in a dog's ears can create the perfect environment for an ear infection, so cleaning his ears thoroughly after each water session is important. Specifically, ocean water can spark nasty bacterial infections which can rapidly deteriorate your dog's eardrum. Ouch!
But the golden rule of water safety: Dogs should never be left alone and unattended in any type of water. Besides, don't you want to join in on the water fun with your pup? Happy splashing to you!
Woof,
Rex, The Original Hipster Hound