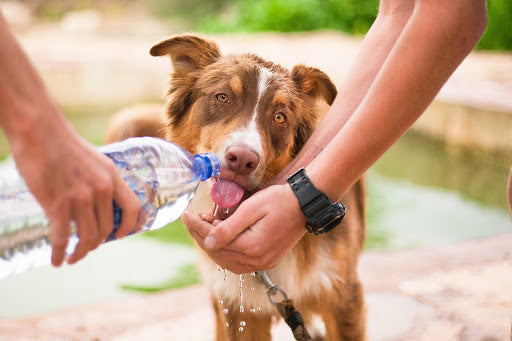 With rising summer temperatures, July has been established as National Pet Hydration Awareness Month. The heat in Savannah is no joke, and my friends, siblings, and I get SUPER thirsty during the summer, especially after running around all day at The Hipster Hound daycare. Staying hydrated all year round is important for dogs and cats, but in the summer, we need to be even more aware of our water intake. While constantly keeping water available to pets may seem like common sense, now is a good time to remind pet parents about the symptoms and dangers of dehydration and overheating.
Symptoms of Dehydration
Loss of appetite
Reduced energy levels
Lethargy
Panting
Sunken, dry-looking eyes
Dry nose and gums
Loss of skin elasticity
Dehydration Prevention
Oftentimes, dehydration is an easily preventable illness with plenty of water and cool off time. This may even include leaving multiple bowls of water around your home. It is essential that your pup receives adequate amounts of water after a walk. Certain breeds (bulldogs and pugs) are at a higher risk, as well as young or elderly dogs.
But sometimes it is just too hot to walk your dog! There is a quick trick you can do before heading out: lay the back of your hand on the pavement. If you can't hold your hand there for at least FIVE seconds, it is too hot for your dog to walk. Keep this in mind:
Limit your dogs' exercise in hot weather.
Take a bottle of water with you and stop for water breaks.
Stop in the shade wherever you can! It helps to walk in shadier areas, as well.
NEVER leave your dog unsupervised in your car because he or she could overheat causing death, and it is against the law to do so.
Treating Dehydration in Dogs
If your dog shows any of the above stated symptoms, it is important to get your dog inside to a cool area immediately. If you don't have indoor access, wetting your dogs' feet and legs will help. If cooling your dog down doesn't seem to help, get your dog to the vet, as soon as possible. Typically, your veterinarian will give IV fluids, and they may also test for any underlying kidney issues that could predispose your dog to organ failure.
Staying Hydrated with The Hipster Hound
Even if you're away from home with your furry friend, you can always keep him well hydrated with a traveling water bowl like Kurgo Mash N Stash Collapsible Bowl, sold at The Hipster Hound. To make it even easier, The Hipster Hound also carries a two-in-one water bottle/bowl to store AND dispense water for your dog. Check out the Messy Mutts Travel Bottle With Silicone Flip Up Bowl online today!
As a fun bonus, two of The Hipster Hound's favorite supplements, Primal Frozen Bone Broth and Primal Frozen Raw Goat Milk, provide an extra dose of hydration for pets - dogs and cats alike. They can even be frozen like a popsicle for a yummy, Summer treat!
Woof,
Rex, The Original Hipster Hound