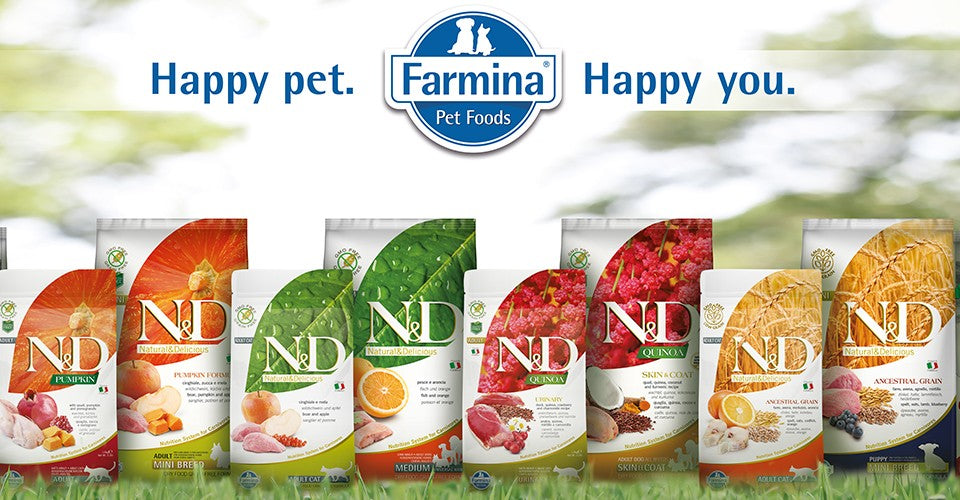 As THE original Hipster Hound, Rex, many humans and animals alike don't often consider me a brainiac, but with Farmina Pet Foods, I'm proving that SCIENCE is the way to go with pet food. Farmina has developed a researched-based nutritional system best for carnivores, like cats and dogs! Not to mention, their food tastes AMAZING! So find out why Famina's science is the tastiest way to make food that's not only healthy but delicious for furry friends like me in this month's product profile below!
About Farmina Pet Foods
Farmina Pet Foods is nature and science in perfect harmony. Their mission is to develop the best all-natural, nutritious, and scientifically validated food that both cats and dogs will love. That's why they mix and cook only the finest raw ingredients following strict guidelines set by nutritional experts. With their expertise, Farmina has designed a scientifically validated diet specific to a carnivore's nutritional needs.
Natural & Delicious (N&D)
Years of scientific research in cooperation with the University of Naples led Farmina to the development of a nutritional system which respects the nature of our pets: Natural & Delicious, the nutritional system for carnivores. The Natural & Delicious main feature is a low glycemic index, as it is made without cereals in the Prime, Pumpkin and Quinoa sub-lines and made with a few ancestral cereals in the Ancestral Grain sub-line. All the sub-lines (see below) are made without corn and allow a gradual energy release throughout the day.
N&D Ancestral Grain
N&D Ancestral Grain is the line with just a few ancestral cereals (spelt and oats), scientifically designed to meet the carnivore nature of cats and dogs. Only natural antioxidants and tocopherol rich extracts are added for a natural preservation of the product. N&D Ancestral Grain is also rich in long-lasting life essentials (including precious vitamins) added with a "cold infusion" technology.
N&D Pumpkin
N&D Pumpkin, a line without grains, has 96% of protein with pumpkin for its exceptional nutritional features like rich in natural antioxidants, supports the immune system, helps in supporting the cardiovascular system, and rich in soluble fiber.
N&D Prime
N&D Prime is the line of natural products, without cereals, scientifically designed for the carnivore nature of cats and dogs. It was the first Natural & Delicious line developed with prime quality ingredients and 98% of protein from animal origin.
N&D Quinoa
N&D Quinoa is a newer line of functional food designed to support the wellbeing of both cats and dogs with specific nutritional needs. Without cereals and with over 92% of proteins from animal origin from new sources and with Quinoa, a precious ingredient full of great nutritional features. Quinoa is a food that fits perfectly into the Farmina nutrition system for carnivores Philosophy because it contains around 13% of high biological value proteins which are rich in well balanced essential amino acids, a very rare feature of vegetables.
What's more: the N&D Quinoa line offers specific formulas to address pets' health issues like digestion, skin & coat, and weight management. But why quinoa? Quinoa supports the absorption of nutrients, is rich in essential amino-acids and natural antioxidants, and has a low glycemic index. So if your pup needs a leg up on his or her food, be sure to try out N&D Quinoa.
Where to Buy
Shop online now to see all the Farmina Pet Foods that The Hipster Hound has in stock, or you can stop in at our Diamond Causeway location to find the best Natural & Delicious formula for your four-legged friend. If you need a recommendation, simply ask our trained staff, and they will walk you through all things Farmina!
Woof,
Rex, The Original Hipster Hound