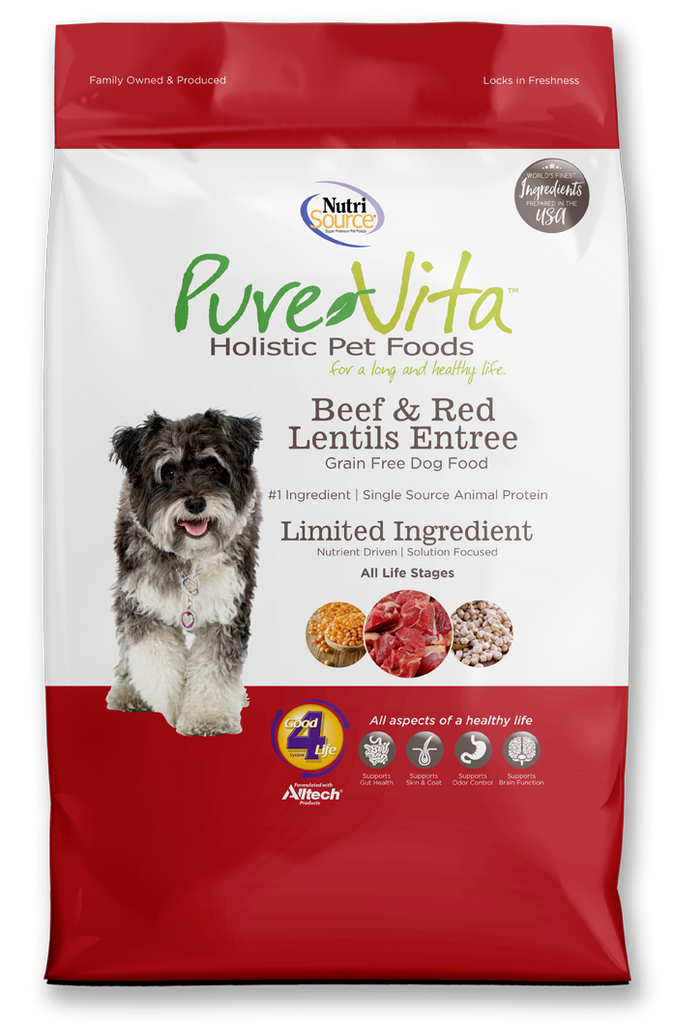 I can't say enough good things about this month's product profile: Pure Vita dog food! Not only is it the TASTIEST, but they offer both grain inclusive and grain free options, so whatever your dietary restrictions are, you can find the perfect formula of Pure Vita dog food!
As the ORIGINAL Hipster Hound, Rex, I am in charge of all product taste testing, and Pure Vita passed my high standards with flying colors. This limited ingredient dog food is exactly what you've been missing, but don't take my woof for it. Take a closer look below at what makes all of Pure Vita's dog food the highest-quality food you should be eating!
Guidelines
All of Pure Vita's grain inclusive AND grain free series of dog food entrées are formulated to meet AAFCO guidelines for all life stages. The AAFCO is a voluntary membership association of local, state and federal agencies. Its members are charged by their local, state, or federal laws to regulate the sale and distribution of animal feeds and animal drug remedies.
Formula
Pure Vita dog food delivers compact nutrition and includes prebiotics and probiotics to help support a healthy gut. Pure Vita's offerings are specially formulated limited ingredient diets that feature a single source animal protein making them a top choice for pets with allergies. Eating a limited-ingredient diet can help dogs manage their finicky digestive system or itchy skin. Learn more about dog allergies in our previous blog article, Itching & Licking? How Allergies Affect Dogs' Skin.
Supplements
Balanced Omega-3 and Omega-6 fatty acids along with L-Carnitine, taurine, choline chloride and DL Methionine supplementation to promote heart health make Pure Vita formulas stand out against all other dog food brands. Learn more about the benefits of supplements in our previous blog article, The Wonderful World of Dog Supplements.
Sourcing
Good sourcing practices begin with the suppliers from whom Pure Vita purchases. They search for quality vendors who are dedicated to providing healthy food ingredients. In addition, Pure Vita gives preferential treatment to those suppliers still owned and operated by their families.
Where to Buy
So be sure to purchase your Pure Vita dog food on The Hipster Hound website or at either location. Your taste buds will be delighted, your belly will be full, and your human will love to see how happy and healthy you are!
Woof,
Rex, The Original Hipster Hound