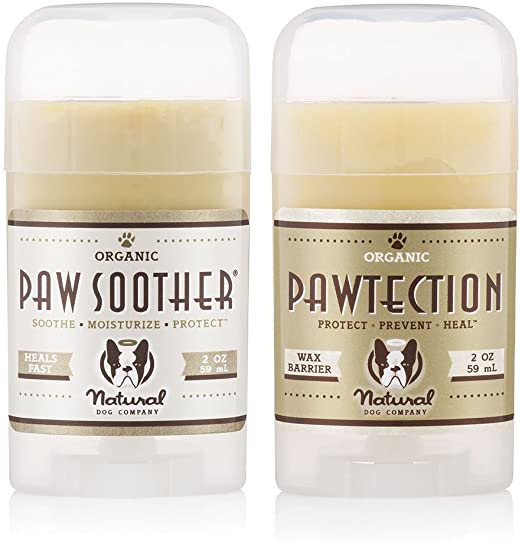 Did you know that when I was born, I had super smooth, sensitive paw pads? Over time as I grew, hot concrete, harsh temperatures, and toxic allergens left my paws rough, cracked, and peeled! This damage to my paw pads is painful and stresses me out within my everyday life. Bummer!
On top of that, anytime I get a scrape, rash, or irritation, I can't use bandages or any topical medicine because I'll lick it off and get sick. What a mess. Basically, my skin and paws are having a RUFF time. My mom, Tonya, didn't know what to do until she started carrying Natural Dog Company's PawTection and Skin Soother balms!
PawTection
PawTection healing balm creates a nourishing, protective barrier on a pup's paw pads allowing them to run free on any adventure year-round! This topical treatment is easy to use and is a potent tool in armoring dogs for any environment, using only natural, organic, plant-based ingredients. Essential oils like ylang ylang and lavender help soothe irritation and balance dryness while supple mango butter combats free radicals and deeply moisturizes paw pads.
Skin Soother
Skin Soother is a 100% natural topical balm crafted to prevent and treat a plethora of ailments and irritations. Dogs will thank their parents for relief from cuts, rashes, burns, wounds, and more. Powered by plants, this incredible balm boasts with healing capabilities, nourishing and soothing your dog's affected area. Skin Soother uses only the highest-quality ingredients creating a vegan, safe, powerful healing treatment to have on hand for any accidents.
Application
Dog parents should clean up any excess dirt or debris evident around the affected area. Use two fingers or a low-absorbent cloth to apply a generous amount of PawTection or Skin Soother directly over the dog's paw pads or skin. Paws or skin will be slick after application, so allow the area to dry.
Where to Buy
All dog parents can buy PawTection and Skin Soother balms on The Hipster Hound website or stop by the Diamond Causeway location. The Hipster Hound carries more products by Natural Dog Company and many solutions for any problems dogs may be experiencing!
Woof,
Rex, The Original Hipster Hound