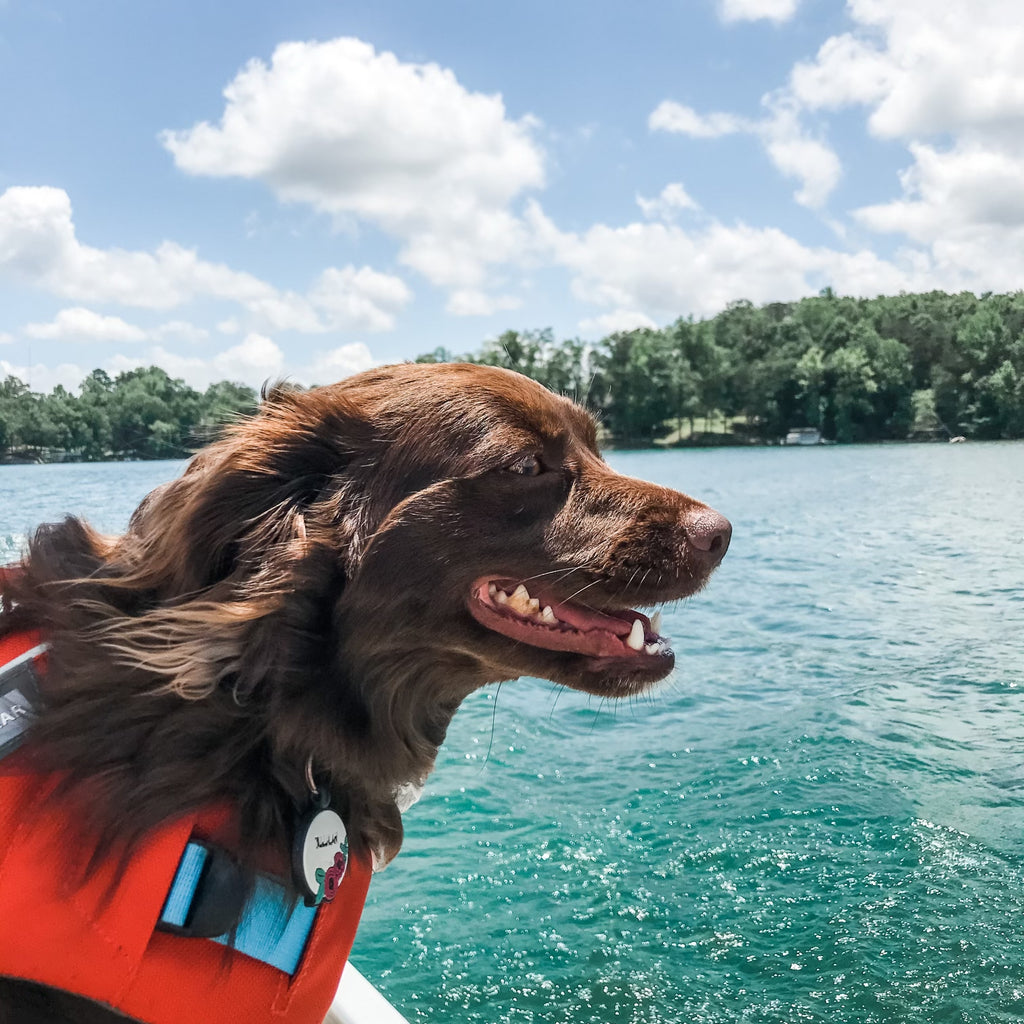 Hello, all you humans out there! This is Talulah, THE original Hipster Hound, Rex's, cousin! I'm taking over this week's blog to talk about my favorite activity to do with Rex and our humans: hiking! We've travelled to many of Georgia's GORGEOUS state parks, but before we even step paw onto the trails, we always make sure we're prepared for anything and everything.
From being physically fit to first-aid kits, our humans make sure we know and have everything we need to stay safe or to help us if we do get hurt. So I'm here as your guide on how humans need to prepare for outdoor adventures with their pups!
Georgia State Park Rules
Pets are welcome at state parks and campgrounds if leashed (no longer than six feet) and accompanied by the owner at all times. Some dog-friendly cabins are available, but pets are not allowed in state park and historic site buildings, lodges, yurts, group camps, swimming areas, or some trails at Panola Mountain and Tallulah Gorge. All parents should clean up after pets.
Visit the Vet
First, humans need to ask their dog's veterinarian some key questions before heading into the wild:
"Is my dog physically ready?": You need to wait until a young dog's bones are fully developed. That might be at a year of age, plus or minus several months, depending on size and other factors.
"Does my dog need any specific vaccinations or preventative medicines?": In the city, you might not worry about things like your dog drinking water in a lake or pond that an infected animal has contaminated with Leptospirosis or even giardia. Ask the vet about preventative measures for outdoor destinations.
"Is my dog's immune system ready?": Factoring in the rate of natural immunity development and your dog's vaccine schedule, your vet can advise you about the safe age for you two to hit the trail.
Start a Trail-Training Routine
Ease into the routine of hiking. Start with hikes of an hour or so, then monitor the energy level afterwards. If your dog is still super active, increase the time for the next training hike. Your goal is to work up to the amount of trail time you plan to do on future day hikes or backpacking trips. This slow approach also helps toughen up citified paws.
First-Aid Kit
A vet won't be handy when you're on the trail, so a doggie first-aid kit and the knowledge to use it are essential. The Hipster Hound offers PetSaver™ Training classes, which covers the importance of pet first-aid, ten situations that require immediate veterinary care, and three methods of CPR.
For your first-aid kit, be sure to add special medicines your vet has given you to your kit. Another handy addition is old, clean wool socks that can be taped on as "bootie bandages" in a pinch. Some pet owners also pack Pedialyte in case their dog gets diarrhea. Don't do this, though, without getting both permission and dosing guidelines from your vet.
You can pack all of your doggie first-aid essentials in Kurgo Baxter Backpack from The Hipster Hound! Its unique adjustable saddlebag construction enables adjustment to fit most dog sizes and proportions. Both Rex and I wear one on all of our hikes!
Other Gear
Water container: Hydration for your dog is best handled by fresh water carried by you. Some owners train dogs to drink as they pour from a bottle like Messy Mutts Travel Bottle with Silicone Flip-Up Bowl.
Booties: They offer protection from sharp rocks, thorns and snow. It's not uncommon, though, for a dog to lose a bootie. So if you choose booties rather than simply toughening up paws on training hikes, you need to pack spares. And you'll still need to allot time for your dog to get used to wearing booties.
Dog towel: You need one dedicated "hiker towel" to wipe off muddy paws before your dog joins you inside the tent. Bring an extra towel, too, to dry fur if your dog jumps in a lake or is soaked in a downpour.
Dog coat: Definitely bring one if your dog lacks thick fur and temps will be low like Kurgo Loft Coat.
Final Thoughts
Being prepared before you and your dog hit the trails is no joke! However, it seems like The Hipster Hound has got you covered from pet first-aid classes to gear, Rex is always ready to explore the Georgia state parks with me! For more fun, you can also follow my hiking adventures through my blog, Wandering Weekends, via Facebook and Instagram! Happy tails to you and your furry friend!
Ruff,
Talulah, The Original Hipster Hound's cousin