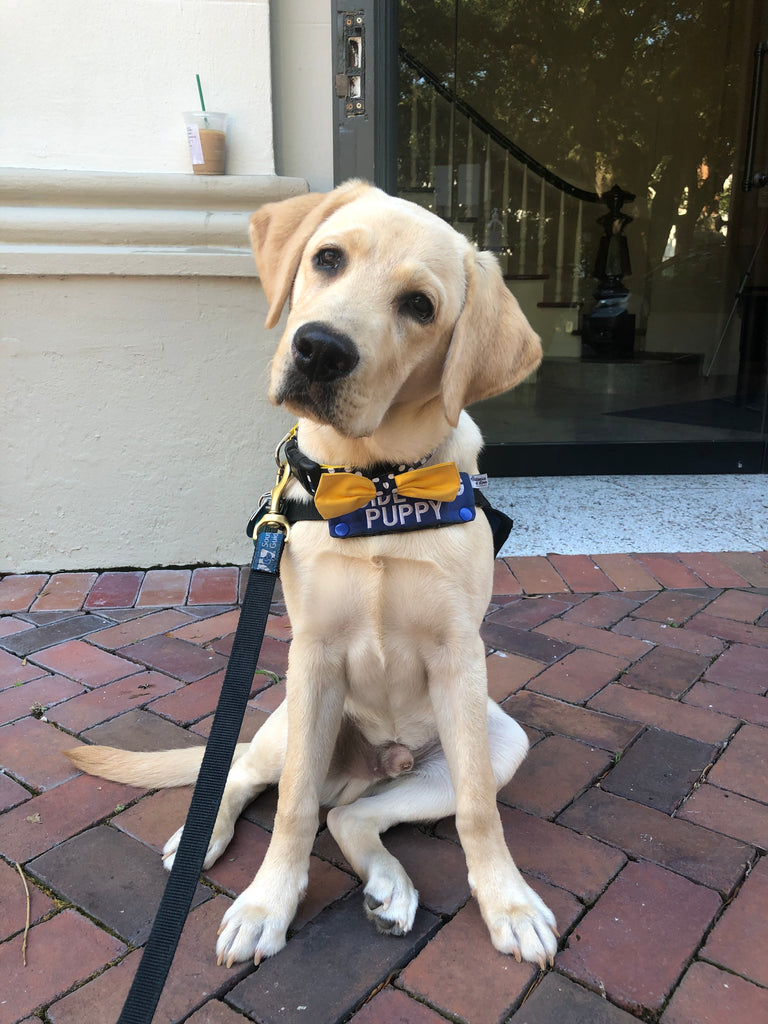 I sure love the holidays! And by holidays, I mean all the dog, cat, and pet-related ones! At The Hipster Hound, we all observe a different holiday each month. In August, the first week of the month is International Assistance Dog Week. It was created to recognize all the devoted, hardworking assistance dogs helping individuals mitigate their disability-related limitations. Since, I, Rex, am pretty popular, I am friends with many assistance dogs and their trainers. They are all so awesome, and I am proud to celebrate them this month!
The goals of this week are simple: to honor assistance dogs, to raise awareness and educate the public about assistance dogs, to honor puppy trainers, and to recognize heroic acts by assistance dogs.
What are Assistance Dogs?
Assistance dogs transform the lives of their human partners with debilitating physical and mental disabilities by serving as their companion, helper, aide, best friend, and close member of their family.
How to Observe International Assistance Dog Week
Participate in a local event: A number of local events happen during International Dog Assistance Week. Ask my mom, Tonya, at The Hipster Hound about events in Savannah and how to help.
Volunteer for animal welfare: Use the week to help out animals in need. You could volunteer at your local animal shelter, help with an adoption drive, or even aid a rescue if you come across an animal in distress.
Host an event: If no events are happening in your neighborhood, host your own. Make it a community-funded project, with proceeds going to animal welfare.
Southeastern Guide Dogs & Clarke
We also want to shine a light on two organizations that are near and dear to The Hipster Hound's heart. Southeastern Guide Dogs and Savannah Puppy Raisers work together in the area to place working dogs with those in need, free-of-charge! Between the two of them, they provide veterinary care, food, toys, leashes, crates, homes, love, and attention to puppies training to become guide dogs. They teach them their basic commands, house manners, and public exposure to provide them the well-rounded education they'll need as a foundation for their future careers. These dogs will have had about $60,000 worth of expenses, training, and work placed into them by the time they graduate, but thanks to many fundraising efforts and donors, the school is able to provide the dogs and those additional expenses free of charge.
And there is one special dog we'd like to showcase for this holiday week. Clarke is a 7-month old, male, Yellow Labrador living in Savannah, GA. Clarke was born and bred to become a working dog for someone in need. Hopefully, he will become either a guide dog for an individual who is blind/visually impaired or a service dog for a veteran with disabilities. When he is around 14-18 months old, he will be sent to Canine College at the Southeastern Guide Dogs campus in Palmetto, FL. He will go through medical and temperament evaluations to ensure he is fit for duty. Then, he'll begin training as either a guide or service dog. If all goes well, Clarke will spend about 6-9 months in training before being matched with his future human.
My mom, Tonya, The Hipster Hound, and I are always here to help educate humans on important issues like the need for assistance dogs. Just give us a WOOF, and our trained staff will be happy to chat!
Woof,
Rex, The Original Hipster Hound