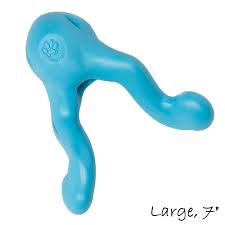 The Tizzi dog toy spirals through the air giving the time-honored game of fetch a dynamic fun spin. Twist Tizzi's handles together for maximum flight or untwist to hide dog treats inside. Whether doggie playtime is on land or in the water, this floatable dog toy is ready for takeoff.
Now the Tizzi dog toy is available in a mini size for small dog breeds. Introducing Mini Tizzi, little dogs can hava a Tizzi™ too!
Like all of the dog toys in our top-selling Zogoflex dog toy line, Tizzi is guaranteed against dog damage, made in the USA, 100% recyclable, non-toxic, buoyant and dishwasher safe.
Looking for the Twiz dog toy? Tizzi is it! Tizzi is the exact same dog toy, but with a refreshed name (and mini size too).
Large Tizzi Measures 6.5"
Mini Tizzi Measures 4.5"
Made in US. Good for gentle chewers.