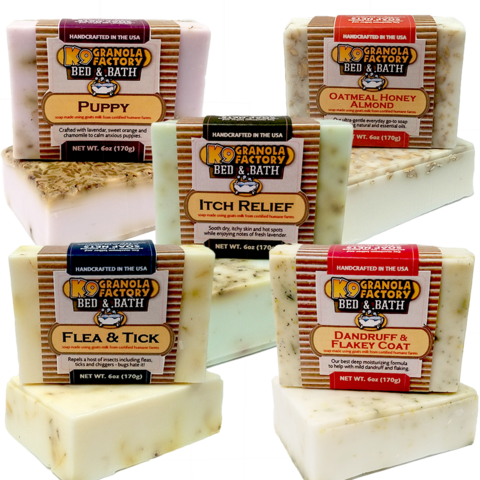 Three scents available.
Dandruff & Flakey Skin: Dandruff, dry white flakes, is a sign that your pets skin is in need of moisture.  Goats milk, coconut oil, and essential oils offer maximum benefits for a healthy, shiny coat.
Oatmeal Honey Almond: Hand Crafted and gentle enough to use everyday, our Oatmeal Honey Almond Soap contains Maryland Honey and Organic Steel Cut Oats. It's time to help rejuvenate your dogs skin with this unique blend of goats milk and honey.  Keep their skin and coat looking healthy and smooth.
Puppy Lavender & Orange: Hand Crafted with Lavender, sweet orange, chamomile and Bulgarian Lavender Flowers to calm anxious puppies.  Smells so amazing you'll want to lather your pup no matter what age. Your dog can experience the ultimate bathing sensation - leaving them smelling fresh and clean.
* Made in the U.S.A - small batches made locally
* Goat's Milk contains unique fatty acids that naturally removes dead skin and renews cell growth while washing
* No Animal Testing
* Organic Herbs & Essential Oils
* No cheap fats from rendering plants and restaurants
Do not use on puppies under 10 weeks of age or dogs that are pregnant or nursing.