Fromm Gold Large Breed Puppy
Fromm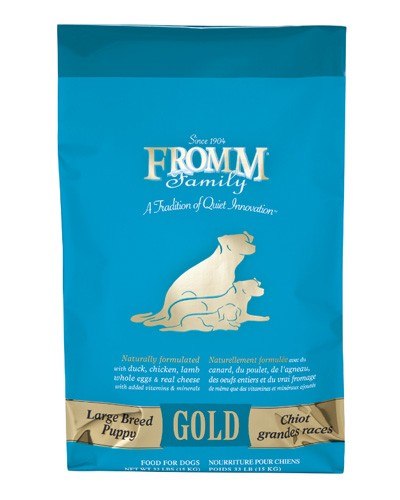 Fromm Family Foods Large Breed Puppy Gold Dry Dog Food
If you have a big puppy that will someday be a big dog, you'll want to make sure he gets the best start so that he can maintain a healthy adult life for years to come. Fromm Large Breed Puppy Gold Dog Food is made with the utmost care and knowledge of what a puppy like yours needs. For puppies who will reach an adult weight of over 50 pounds, this gourmet meal features fresh and naturally preserved duck, chicken, lamb, whole eggs and real Wisconsin cheese. With probiotics to help the sensitive pup digest his food and salmon oil to promote a healthy coat, Fromm Large Breed Puppy Gold Dog Food has everything and more for a happy and healthy puppy.
Puppies are in a crucial stage of life, one with its own specific and unique needs. All puppies, but especially those who will be large dogs and require a lot more fuel to keep their bodies moving, require a little extra effort when it comes to their nutrition. Fromm Large Breed Puppy Gold Dog Food has taken all the guesswork out. It is made with carefully balanced levels of nutrients that your puppy needs until he fully stops growing. In fact, for large breed dogs, Fromm recommends feeding Fromm Large Breed Puppy Gold Dog Food until 13 to 17 months, and 17 to 24 months for giant breeds, as the bigger the dog is, the longer it takes for the growth plates to close.
Fromm is proud to offer pet foods that are easily traceable, from the well-known local supplier to the distribution of each bag of premium food. This is possible because all of Fromm's foods are produced in their owned-and-operated facilities in Wisconsin. Fromm controls the sourcing of ingredients, the preparation of the food in every stage, packaging and distribution, and all of this is done with a commitment to excellence to you, the pet parent. Fromm Large Breed Puppy Gold Dog Food does not reach your puppy until it has been tested by an outside lab to ensure it is wholesome, pure and unadulterated.
Fromm Large Breed Puppy Gold Dog Food is created so that your large breed puppy can thrive on what his growing body needs. With nutrition, quality and flavor as the top priorities in the making of this food, you can trust that your puppy is growing up with the best of the best.