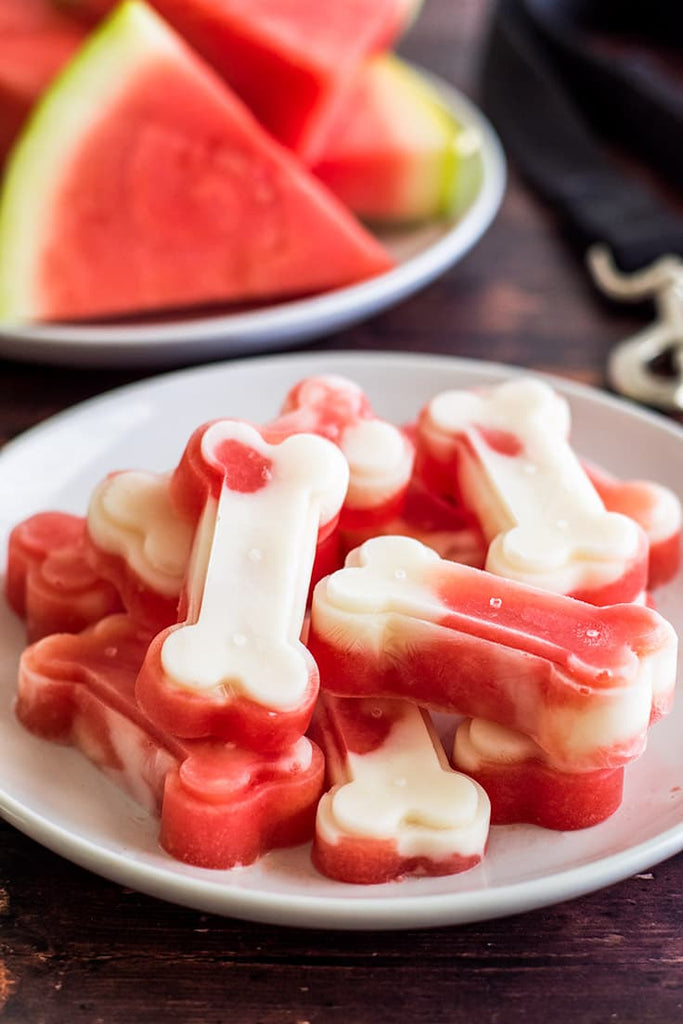 The weather is HOT but the treats are NOT! At The Hipster Hound, we've been snacking on some tasty frozen treats at doggy daycare this summer. I, THE Original Hipster Hound, Rex, LOVE to cool off with frozen treats as much as humans do, so my mom, Tonya, makes special dog-friendly ones for us that are safe and irresistible! So below, I wanted to share two of my favorite frozen dog treat recipes so that all humans can make these homemade goodies for their pups all summer long!
Peanut Butter & Banana Ice Cream
It's no secret: dogs absolutely love bananas and peanut butter, so we combined them into one delicious ice cream recipe with THREE ingredients and only takes minutes to make!
Equipment
Immersion blender, blender, or food processor
Silicone treat mold, ice cube tray, or mini-muffin pan
Ingredients
3-4 ripe bananas, peeled
32 ounces plain yogurt, low-fat
1 cup peanut butter, organic and all-natural is best
Instructions
Add bananas, peanut butter, and yogurt to a blender or food processor.
Blend until thoroughly mixed.
Pour into mold, tray, or pan and freeze.
Note: Organic peanut butter isn't required, but you have to make sure that the peanut butter you use does NOT include toxic xylitol. Xylitol is fatal to dogs and is found in a few peanut butter brands. Check the ingredients list before serving.
Watermelon & Yogurt Pupsicles
Another easy and quick recipe with only TWO ingredients this time that dogs will want to gobble up! These watermelon and yogurt PUPSICLES will hit the spot and have your dogs staying cool during the hot summer months!
Equipment
Immersion blender, blender, or food processor
Silicone treat mold, ice cube tray, or mini-muffin pan
Ingredients
2 cups chopped seedless watermelon (You can even substitute the watermelon for other fruit like apples, blueberries, or strawberries.)
15 tablespoons (just under 1 cup) plain yogurt
Instructions
Puree watermelon chunks until smooth.
Add 1 tablespoon of yogurt to each space in your mold, tray, or pan.
Fill the rest of the way with watermelon puree.
Freeze until solid, about 4 hours.
Remove treats from mold and store in an air-tight container in the freezer.
Note: Dogs should always be supervised when eating frozen treats. While watermelon and yogurt are safe for dogs to eat, some dogs don't process dairy well. If that's the case for your dog, you can omit the yogurt.
Also, this recipe calls for plain, unsweetened yogurt, but you CANNOT use yogurt that has been sweetened with xylitol, as it is toxic to dogs. And as always, check with your vet if you have any questions or concerns about what you're feeding your pets.
Woof,
Rex, The Original Hipster Hound