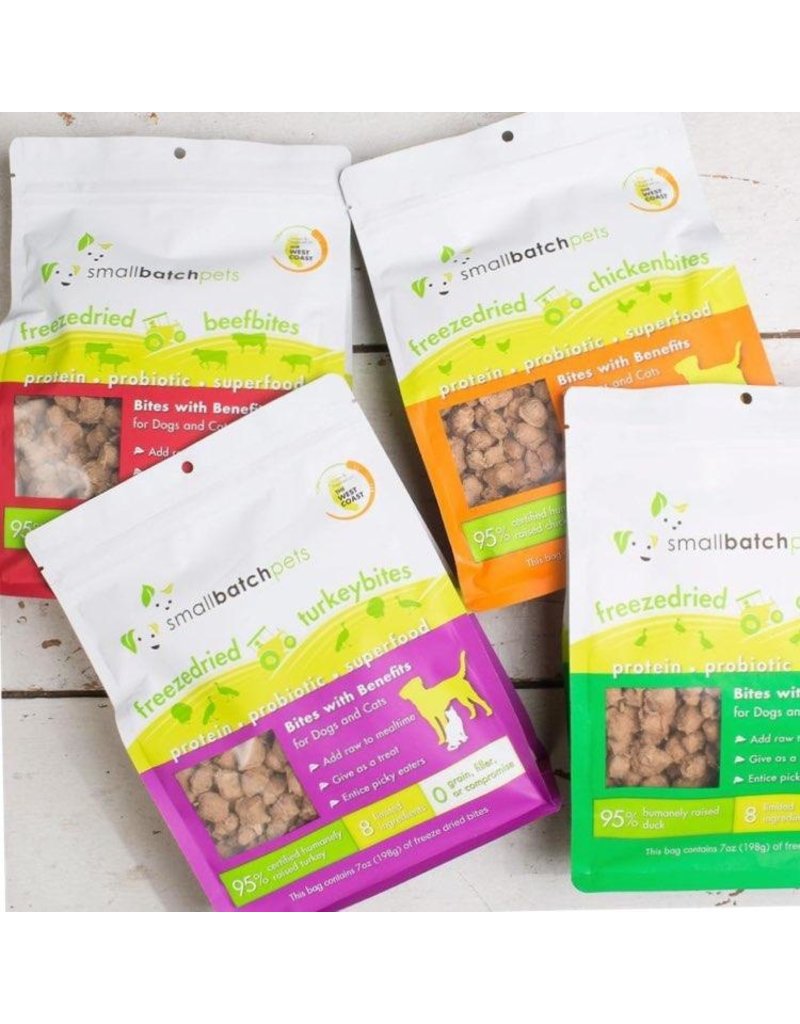 It's product profile time again, and you know that I always love when it's one about FOOD. Aside from being THE Original Hipster Hound, Rex, I am still enjoying my job as official taste tester for my mom, Tonya, when she is deciding which products to carry in the retail shop. Her ultimate goal is to offer all you Hipster Hounds the best, high-quality food and treats, and boy, do I love helping her with the quality assurance! The second she had me try Small Batch freeze dried treats, I was HOOKED! Small Batch is a company that really cares about your pets, so it was only natural for The Hipster Hound to sell these amazing products!
About Small Batch
Small Batch is a small, family-owned company founded in 2005 in San Francisco, CA. Inspired by its local and sustainable sources, Small Batch set out to make a different kind of raw pet food. All of Small Batch's ingredients are carefully selected to meet the standards that every pet deserves: organic herbs and vegetables, hormone and antibiotic free meats, and only pure honest supplements like organic kelp and bee pollen.
Benefits of a Raw Diet
There are plenty of reasons to go raw for your pet. Here are some of the key benefits of going raw:
Healthy immune system: Gain greater resistance to viruses, bacteria, parasites, and also increase overall vitality.
Small poop: More bioavailable components means firmer, smaller, less-stinky stools. Natural enzymes in raw food also help aid digestion.
Healthy skin, coat, and teeth: Pets fed a raw diet have soft, shiny fur and less shedding. Raw bones are nature's toothbrush to keep those chompers clean.
Why Freeze Dried?
Small Batch freeze dried food and treats are a holistic approach to all of your dogs' nutritional needs. All of Small Batch's freeze dried food and treat ingredients are grown and raised in the San Francisco-area using:
Humanely raised meat with no added hormones or antibiotics
Organic produce free of pesticides
Vitamins, minerals, amino acids, and EFAs from whole food sources
Where to Buy
The Hipster Hound currently carries several flavors of Small Batch's freeze dried treats: beef, chicken, duck, and turkey. But be sure to check our Diamond Causeway location or online shop often because we are always updating our stock, especially with such quality products like Small Batch. Happy snacking!
Woof,
Rex, The Original Hipster Hound