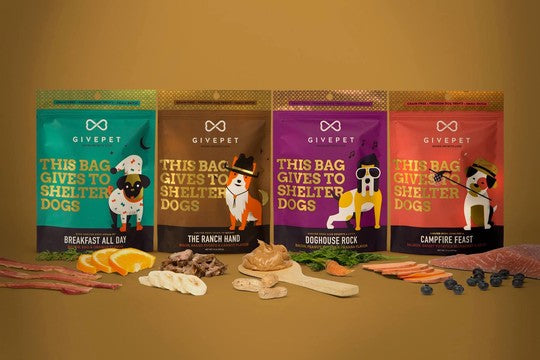 The Hipster Hound is dedicated to carrying products associated with a cause. I, Rex, THE Original Hipster Hound am also dedicated to sampling those products, so that's why I'm drooling over this month's product profile: GivePet Premium Dog Treats. GivePet's grain-free, healthy treats are not only good for dogs but for the soul, too! That's because GivePet donates their treats to local dog shelters for every bag that they sell. Talk about a good cause! So read below for more about GivePet's dog shelter promise and the treats that The Hipster Hound carries.
About GivePet
Founder Chris Dennis had been selling premium pet food to pet specialty retailers for over 16 years when his sister, who has been rescuing dogs for over 40 years, suggested that he get into the pet industry. Chris liked the idea and also wanted to do something on his own to help shelter dogs and small rescues like his sister's that rely on local donations for day to day operations. Treats are one of the most requested items at shelters for socialization and training, so in 2016, GivePet was born! For every bag of GivePet dog treats sold, Chris gives back enough treats for at least TEN local shelter dogs. GivePet provides consumers with a tangible chance to help shelter and rescue dogs with their purchase.
GivePet Breakfast All Day Baked Treats
What's better than eggs, bacon, and hash browns for breakfast? For loving dogs looking to please their humans or prepare themselves for adoption, the answer is eggs, bacon, and hash browns ALL DAY LONG. This treat delivers all the favorite diner flavors but without the greasy spoon.
GivePet Campfire Feast Baked Treats
It's no secret why dogs love camping...it includes just about all of their favorite things. Tracking dirt everywhere. Snuggling up with you in a nice, warm tent. And, of course, enjoying fresh salmon around the campfire. But why wait? Set up camp in your dog's heart with the rustic flavors of the outdoors in this treat.
GivePet Doghouse Rock Baked Treats
If you ain't nothin' but a hound dog, then you know that it doesn't get much better than the soulful combo of bacon, peanut butter, and banana. Give your rockstar pooch the great flavor and wholesome nutrition he or she deserves.
GivePet The Ranch Hand Baked Treats
Listen here, cowboy. No dog can roam plains or chase varmints quite like yours. So don't put your boots up and give your favorite deputy just any old treat. Help your pup graze right with this fresh bison-flavor treat that he or she will want to get some PAWS on right away.
GivePet Beagle Scout Soft Trainers
Whether they're learning new skills or headed out on a fun new adventure, every dog deserves to indulge in a chewy and delicious bite of carob, honey, and vanilla. So grab your kerchiefs and put on your thinking caps. Your pooch is about to earn his next badge the tasty, all-natural way. Scout's honor!
GivePet Doggy Paddle Soft Trainers
Whether they're working to save lives or just learning to sit, stay, and roll over, every dog deserves something tasty when they're training is challenging. And with coconut, mango, and pineapple, these treats make doing their job feel like a total day at the beach.
GivePet Upward Dog Soft Trainers
When they're training, our favorite four-legged pals are working more than just their hindquarters. Learning new things requires them to stretch their brains in new and challenging ways. And with banana, peanut butter, and chia seeds, this treat is a healthy way to reward dogs who work to leave their comfort zone behind.
The Hipster Hound Retail Shop
Sure, you can buy all of your GivePet Premium Dog Treats through our online store, but why not stop by our retail shop at either our Diamond Causeway or Echols Ave location!? You can chat with our experienced and knowledgeable retail associates, and they can point you in the right direction for which GivePet flavor is right for your furry best friend!
Woof,
Rex, The Original Hipster Hound