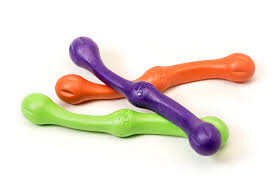 AWARD WINNING safer alternative to a stick
Hollow, squishy feel is satisfying to chew, catch and carry
Dishwasher safe and floats in water
Non-toxic, BPA, latex, and phthalate-free
Backed by Love It Guarantee®
A fetching "stick" so wonderfully bendy and squishy that humans like to play with it almost as much as dogs do! Zwig combines shapes and textures to create an irresistible chew-feel with a bouncy action that keeps going even when dogs are just carrying it around (which they love to do). It's easy for even pups or senior dogs to grasp by mouth or hold between the paws while chewing. Made of our proven and much-loved Zogoflex, Zwig has a hollow center making it lightweight and durable for moderate and persistent chewers who like the springy resistance of a more flexible chew toy. Measures 13.75"