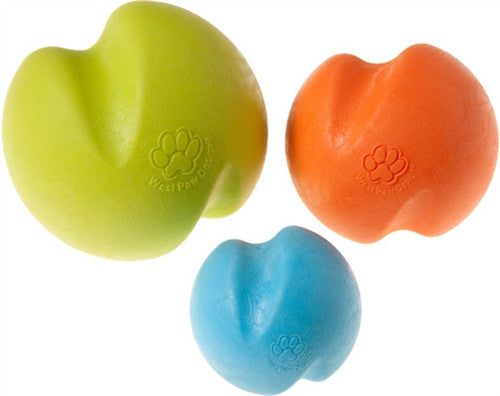 Jive is the most durable dog ball from West Paw Design yet. Jive™ is the only dog ball toy you need - bright, bouncy, and BPA-free. Jive comes in three sizes to fit any size dog. The large size dog ball is 3.25 inches wide, which is just a little smaller than the average softball. The small ball is 2.6 inches wide, which is similar to the size of a standard tennis ball. Jive also comes in a new mini size for small dog breeds that is only 2" wide, which is almost the size of a golf ball.
Since Jive is made from our extremely tough Zogoflex® material, Jive is so strong that it is guaranteed to stand up against dog destruction. If your dog can damage this dog toy ball, we will give you a one-time free replacement or refund. Learn more about the guarantee on all of our Zogoflex dog toys.
Other dog chew toys can be hard on dog's teeth, but even though Jive is guaranteed strong, this ball also bounces, floats, and is gentle on dog's mouths. Jive is also recyclable, dishwasher safe, and made in the USA.