Fromm 4 Star Duck & Sweet Potato Dog Food
Fromm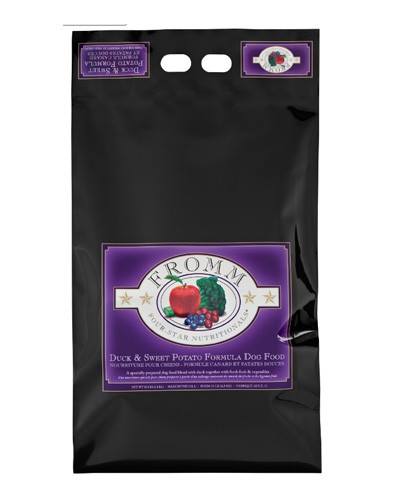 Fromm Duck and Sweet Potato Dog Food is the all-natural gourmet dining experience your dog will want over and over again. Fresh Wisconsin duck is accompanied by a variety of delicious fruits and vegetables, including sweet potatoes, carrots, apples, green beans and cranberries. Real Wisconsin cheese rounds off this exquisite meal that is as healthy as it is flavorful. Without any artificial preservatives and featuring a distinct "homemade" quality, Fromm Duck and Sweet Potato Dog Food is an excellent choice for your beloved pet.
Dogs who enjoy the exceptional flavors of Fromm Duck and Sweet Potato Dog Food also enjoy the many benefits of Fromm's multi-ingredient principle. The unique combination of proteins, carbohydrates, fruits and vegetables offers your dog a perfectly rounded diet that means he is getting all the vitamins and minerals he needs. Another benefit is the noticeable difference many pet owners have found in dogs who are suspected to have a food allergy. Often, what appears to be an allergy is actually an intolerance, so the offending ingredient is tolerable in small amounts. With so many ingredients present in small quantities, many sensitive animals have done quite well on Fromm Duck and Sweet Potato Dog Food.
At Fromm Family Foods, accountability is key. Every bag of food can be traced right back to the supplier of the raw ingredients so that Fromm Duck and Sweet Potato Dog Food is guaranteed to be top quality. Manufacturing is not outsourced; rather, the food is homemade in Fromm's own facilities in Wisconsin. This is key to Fromm's quality guarantee – in a private plant, everything from facility maintenance and employee training to raw ingredients and packaging can be controlled. For this reason, Fromm promises pet parents that every bag will be filled with premium quality, safe and consistent dog food.
Your dog deserves the best, and that's what Fromm aims to be, from flavor and nutrition to  undeniable quality. Fromm Duck and Sweet Potato Dog Food is truly a product that you can trust for all of these crucial qualities. Let your dog experience this gourmet dish and rest easy knowing that he's getting no less than the best.