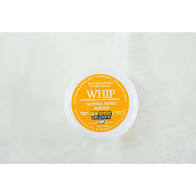 WHIPPED Butters are one of the many aspects that makes K9 Granola Factory Skin Care so unique.  These butters can make a huge difference in the way your pet looks & feels by eliminating dandruff and itchy skin. Lush butters are WHIPPED for immediate absorption into the skin & coat.  It will not make your pet greasy or mat their hair.  Treats itchy, dry skin, hot spots and flaky coat.  Provides body & movement to coat while helping to regain shine.  Simply rub a small amount of WHIP between your hands, run hands through pet's coat, concentrating on areas of extreme dryness.  May brush to fluff and works great on bellies and elbows.  Excess butter may be rubbed into your own hands, leaving them soft and smelling great.        
 Available in several wonderful scents & are safe for both pets and their people!
 WHAT MAKES THESE PRODUCTS GOOD FOR YOUR PET:
Essential Oils, Made w/ Argan Oil, Infused w/ Kaolin Clay, No Mineral Oil, No Sulfates, No Parabens, No Artificial Emulsifiers, No Artificial Fragrances or Color, No Alcohol, No Animal Testing.