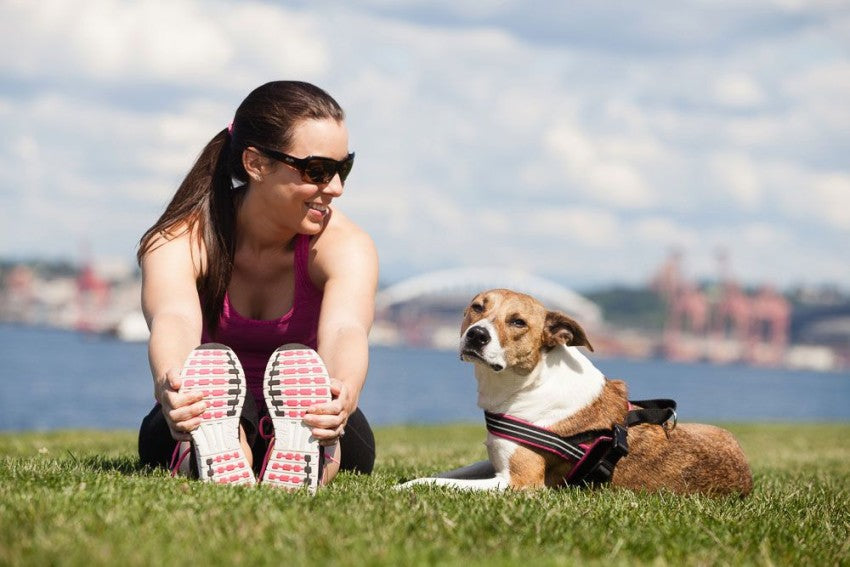 Being fit and in shape isn't just important for humans but also their favorite furry friends! And I, THE Original Hipster Hound, Rex, think there's no better way to exercise than with my humans. My mom, Tonya, takes me on walks all the time, and my human sister, Lucy, plays fetch with me after school, but I'm looking to step it up a notch as this summer is winding down. So my humans and I have started looking into more activities we can do together, and we wanted to share our new workout favorites with all pet parents!
Hiking
Hikes are ideal for most levels of athleticism for both you and your pup. They satisfy your dog's natural inclination to explore and your need for movement. Do some research online to find any hiking paths near you, and take your dog for a day filled with adventure! Before you head out, be sure to pack the essentials. Just like you, dogs need an adequate amount of food and water to fuel them on their journey, so be sure to pack plenty of dog food, water, and a bowl.
Swimming
Although it is widely believed that all dogs can swim, this is not entirely true. Some puppers simply do not like to swim or have difficulty with it. However, if your pup LOVES the water like me, then swimming can be a great work out for you both! This low-impact activity helps build muscle while putting less stress on the joints and skeletal system than other exercises. This exercise can be especially helpful for older dogs or pups with previous injuries.
Yoga
Yoga is one of the trendiest ways to move around with a dog. It even has its own name – doga! This practice focuses on gentle stretching, meditation, and even dog massage. Not only is it a fun way to get in-tune with your body, it also provides a great bonding experience between you and your buddy. You can perform doga at home through instructional videos online or you can attend doga classes in-person, which are being offered as special events all over the country.
Bike Joring
Bike joring is when your dog pulls you on a bike, and it's a great way to channel his inner desire to pull while really giving him an intense workout! As your dog jogs and pulls the bike, you can pedal to help change up the speed and help with hills. To add some resistance for you, lower the bike gear and pedal the whole time. This workout activity only works for larger dogs in top physical condition, so make sure your pup is up to the challenge. And you MUST be sure to stick to bike friendly paths and areas to ensure the safety of both you and your dog.
Doggy Daycare
Hey, we get it. Even if you did these activities ALL day with your dog, he might still have more energy to get out than you can keep up with! So bring him on over to The Hipster Hound for doggy daycare. He will get all the exercise he needs: playing with other dogs, running around in our spacious yards, or even swimming in the pools. Learn more about doggy daycare on our website, and you can even make an appointment to reserve your dog's spot at daycare!
No matter which activities you choose to do, just enjoy the time you have with your furry friend together in your fitness journey!
Woof,
Rex, The Original Hipster Hound