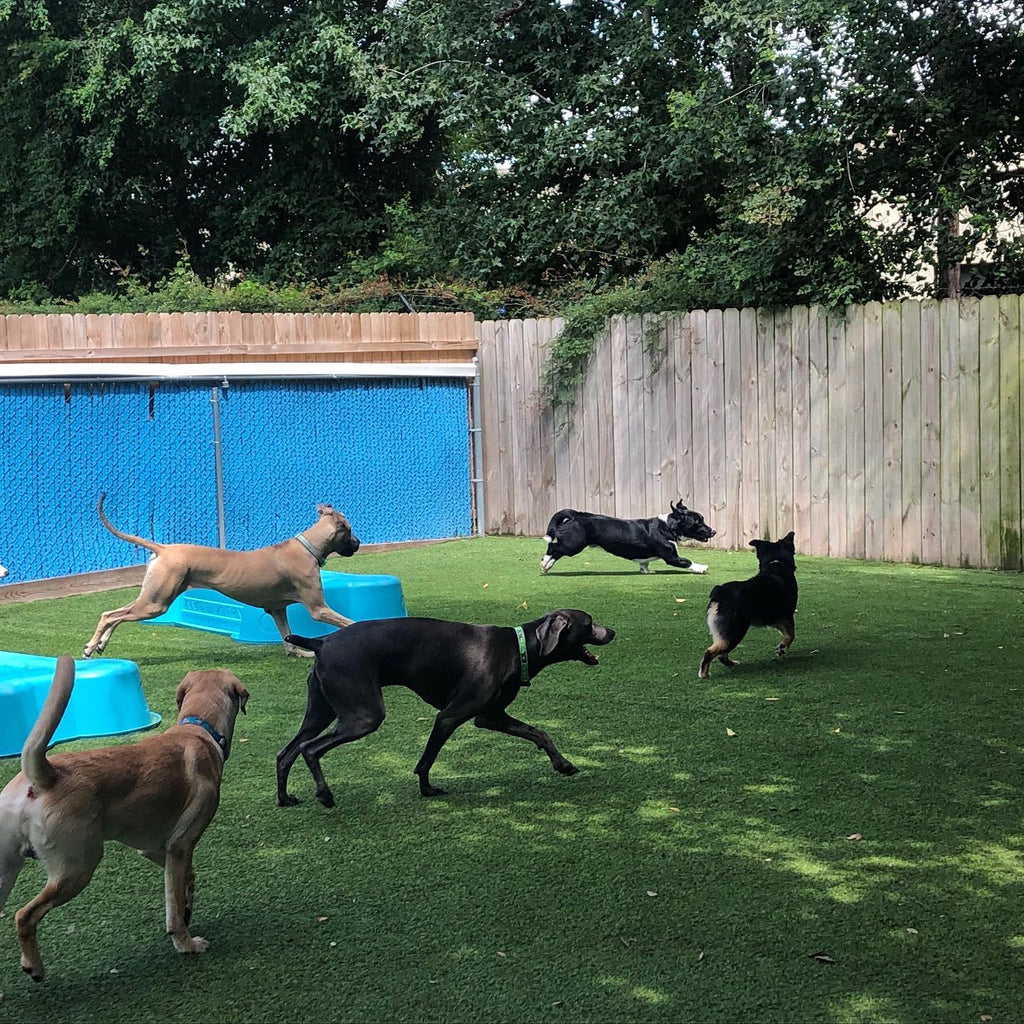 Folks often ask me what my favorite thing about being THE original Hipster Hound is, and I guess I would have to say going to work with my mom, Tonya, whenever I want. Why? Because The Hipster Hound has the BEST doggy daycare in all of Savannah! They've got huge indoor spaces, outdoor yards with turf, and even swimming pools! But what I love most about daycare is hanging out and socializing with my friends. Oh yes, dogs need to socialize just like humans do, but for us, it's a little different...
Why Socializing is Important
Daycare provides dogs with the physical activity, socialization, and supervision they need. It alleviates boredom and loneliness in a safe, interactive, fun, and cage-free environment. Throughout history, dogs have been bred as working animals for hunting, herding, protection, or guarding. Most domesticated dogs perform no tasks. Those that spend little time exercising often have pent up energy that leads to behavioral problems.
If your dog is not exposed to other dogs in a natural, off-leash way regularly, they can become anti-social, reactive, anxious, and aggressive toward other dogs. Dogs are born as social beings. They like and crave contact with other dogs, and a dog who doesn't like other dogs is very un-doglike.
Early and consistent socialization is the most important thing humans can provide for young puppies and is critical for their healthy development. If dog parents want their buddy to be social throughout his life, they need to consistently provide him with positive social experiences with other dogs.
Socializing Puppies
Puppies are very impressionable during their first four to five months of life. During this developmental period, a puppy's experience has a massive impact on the rest of his life. This brief window is the ideal time for your puppy to have some diverse experiences with new people, different places, and dogs. The Hipster Hound recommends doggy daycare for any puppy of 15-16 weeks or older (after all shots and vaccinations) to start their healthy socialization schedule ASAP!
Something that we've been experiencing lately because of the coronavirus pandemic are what we call "COVID puppies." Many people adopted puppies during the lockdown or their self-quarantines, and these puppies have only spent time at home with their humans, not experiencing the outside world. Our staff has had to work more diligently and patiently with these puppies to teach them how to socialize from square one with other dogs and humans.
Socializing Adult Dogs
When it comes to socializing adult dogs, a different approach may be required, since older dogs have already established their personality and have had a variety of life experiences – both good ones and potentially bad ones. Chances are, if you adopt an adult dog, you don't fully know what they've experienced or where they came from. At The Hipster Hound, play groups are determined by our dog behaviorist to group which dogs play best together. We aim to partner pups based on size, age and individual personalities.
Sign Up for Doggy Daycare Today!
Follow The Hipster Hound on Facebook, Instagram, or TikTok to see photos and videos everyday of dogs having a BLAST at daycare. And to learn more details about our daycare services including rates and shuttle service or to make a doggy daycare appointment, visit our website now. You can also stop by either of our locations on Echols Avenue or Diamond Causeway. One of our Hipster Handlers would love to show you around our facility so you can see for yourself just how FUN doggy daycare can be!
Woof,
Rex, The Original Hipster Hound