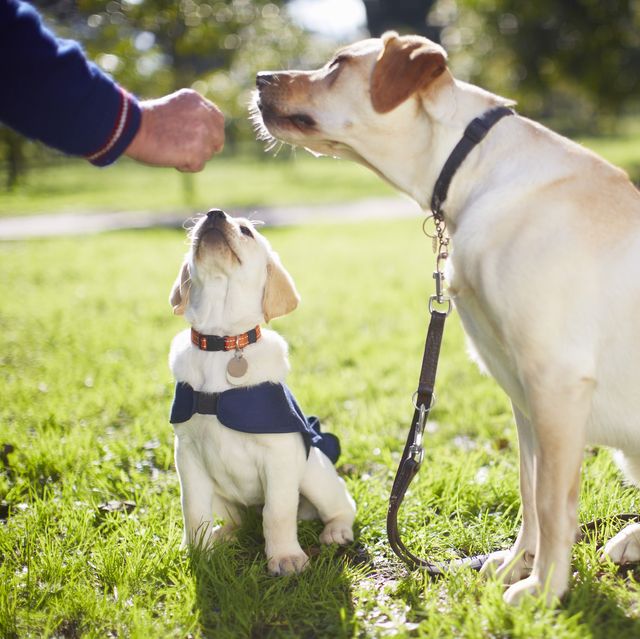 As the ORIGINAL Hipster Hound, I have spent a lot of time making friends at doggy daycare week after week. After awhile, my mom, Tonya, and I noticed that a lot of my new dog friends and even my own sister, Rosie, didn't have the best manners. How embarrassing! From puppies to senior dogs, many of them were out of control - jumping on humans, pulling on their leashes, and lacking socialization. It was a mess!
So we did a TON of research and found that the majority of dogs who experience these behavioral problems have never been properly trained in a formal obedience class setting. We decided that with our experience and facilities, The Hipster Hound should offer dog training classes to the Savannah area! We partnered with dog trainer extraordinaire, Ben Hutchinson of At My Side Dog Training, to develop the four-week Beginner Dog Training program at The Hipster Hound. And so far, dogs and dog parents alike have learned how to communicate with each other and so much more!
Basic Commands
The Hipster Hound course is perfect for dogs five months or older who need to learn basic manners. During the four week course, they will learn how to sit and stay, come when called, stop jumping on guests, not pull on their leashes, and more. The class is purposely kept small with only five dogs total for one hour each week. Ben and The Hipster Hound do not use physically or mentally abusive training methods. Instead, they use balanced training by rewarding good behavior and correcting bad behavior in an understandable and proportionate way. Treats are initially used as the primary motivator, but dog parents will learn other reward methods to get the results that everyone wants.
Easy Management
By learning basic commands, dog parents will have better management of their dogs. Better management means us dogs can become a part of the family more instead of being uncontrollable, misbehaving, or having to be left at home by ourselves. Some things as simple as greeting someone politely, coming back when we are called, or walking controllably on a leash are basic desirable behaviors that the obedience classes teach. We just want to do everything WITH you - go to dog-friendly parks, events, hiking, camping, etc.!
Closer Bond
Establishing a strong connection is essential between dog parents and their pups. Training us with positive techniques is a great way to build trust and mutual respect while bonding. A well-trained dog with good manners is more manageable, relaxed, content, and confident. And it makes our dog parents a lot happier when we all understand each other. According to research, dogs that have obedience training pay attention to their parents, which reduces stress on both sides and creates a loving relationship between dog and human.
Safety
Even a well-behaved dog could bolt if he or she gets scared. A dog that will return when called can make all the difference in a dangerous situation, like running out in front of an approaching car, racing out the door during a thunderstorm, or running away while evacuating your home because of an impending natural disaster. Also, it's much safer to have a trained dog around family and friends, making us a lower risk to ourselves and others than an uncontrollable dog.
Fun and Social
Dog training school is fun for both dogs and their humans! There are always new skills or information our dog parents can learn concerning our training, techniques, and methods. The opportunity to talk to other dog parents and consult the trainer is invaluable and can help resolve difficulties in training. The best thing about it is they all understand what our dog parents are going through and often have excellent tips and suggestions.
To schedule your pup in the next class, call our Diamond Causeway store at (912) 349-7640 or sign up online.
Woof,
Rex, The Original Hipster Hound