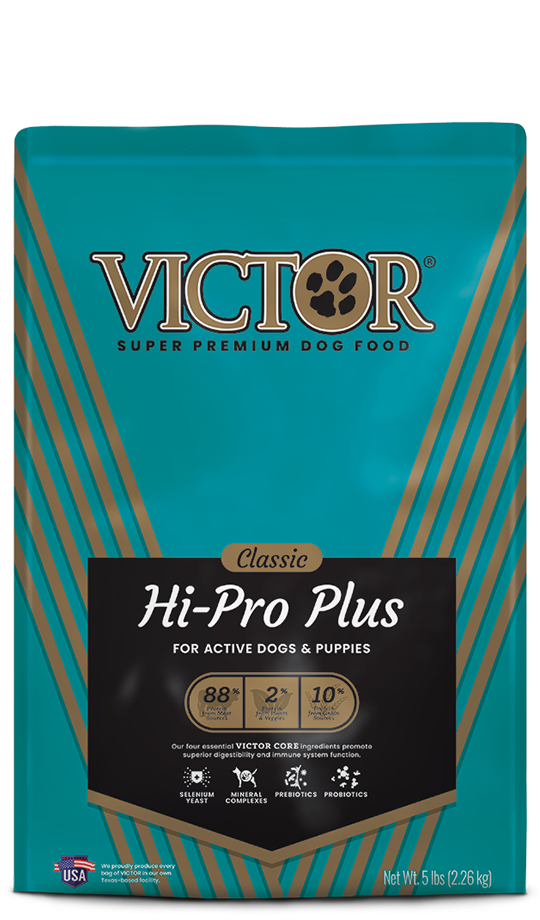 The Hipster Hound is proud to now carry Victor Super Premium Dog Food, and I am doggone crazy about this stuff! All of the Victor dog food product lines have received 4 and 5 star ratings, and every formula is fresh, consistent, and packed with nutrition! So let's take a closer look at Victor dog food and see just that makes it so healthy yet delicious!
Formula
To make the best dog food possible, Victor started with formulations based on nutrition, expertise, and the highest production standards. They begin each bag of kibble with their four essential core ingredients (see list below) selected to support a dog's metabolism, promote healthy digestion, and build an immune defense system. Victor also locally sources as many ingredients as possible near their Texas plant, which is very important to us here at The Hipster Hound!
Core Ingredients
At Victor, they have conducted extensive research and developed each dog food formula to serve specific purposes and for all life stages from puppy to senior. From there, they created the base of four essential core ingredients. Found in every bag of Victor dog food, these ingredients come together to provide superior nutrition for all dogs:
Selenium Yeast
Easily absorbed, stored, and used in the body, selenium yeast offers essential metabolism, cellular regeneration, and immune response support. All Victor formulas contain selenium yeast as their sole source of selenium. Selenium yeast can be absorbed in the bloodstream and is stored in cells for use during times of stress.
Mineral Complexes
Easily absorbed by the digestive system into the bloodstream, the essential mineral complexes of zinc, manganese, and iron work on the cellular level to promote efficient metabolic function and to support a healthy coat and skin, paw pad integrity, and a strong immune system. These mineral complexes also support wound healing, cell division, and synthesis functions, which are all necessary for skeletal growth, joint cartilage health, and reproductive system integrity.
Prebiotics & Probiotics
Victor formulas contain powerful prebiotics and probiotics that help immune strength and digestive health. Prebiotics promote healthy digestion and efficient immune response, which in turn supports growth, activity, and overall well-being. While probiotics support a healthy digestion as well as a strong immune system, both of which are vital for good health and longevity.
Where to Buy
Another benefit of Victor dog food is the pricing. Although it is FAR better quality than the kibble you can buy at your local grocery store, Victor is very reasonably and similarly priced, which means this high-quality food won't break the bank! Humans can buy Victor Super Premium Dog Food for their furry friends on The Hipster Hound's website or at the Echols Avenue and Diamond Causeway locations' retail shops. Be sure to ask the knowledgeable staff which Victor formula is best for your dog. Happy eating!
Woof,
Rex, The Original Hipster Hound