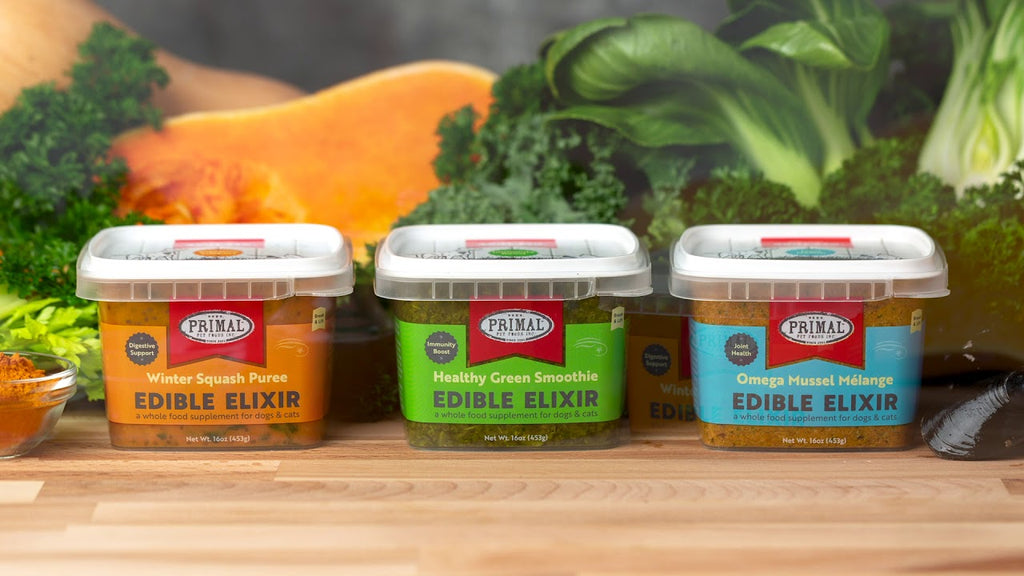 Just like humans, dogs have varying health and nutritional needs. I've been known to have digestive issues in the past (ew!), and I also have friends who have a weak immune system or sore joints. We're all so unique and different, but our regular dog food just isn't enough to keep up with our changing needs. That's why my mom, Tonya, looked into supplements to add to my daily meals that can help me, my siblings, and The Hipster Hound customers get all the nutrition we have been missing.
She found that Primal Pet Foods now makes elixirs! What's an elixir!? That sounds so mysterious and magical. Well actually, Primal Elixirs are aromatic whole food toppers that can be added to any dog food meal to provide real food solutions for our health and longevity. Each flavor includes specialized, functional ingredients to support healthy digestive tracts, immune systems, and joints. And while they are SO healthy for us dogs, they TASTE just as amazing! Below are details on the three flavors Primal offers and the benefits of each:
Winter Squash Puree for digestive support: Full of prebiotic fiber, organic butternut squash works to nourish the gut, firm stools, increase regularity, and feed our microbiome. Organic cinnamon, turmeric, and ginger work to settle an upset stomach, while powerful probiotics support a healthy GI tract. Finally, raw unfiltered apple cider vinegar provides enzymes, acid balance, and probiotics for digestive support.
Healthy Green Smoothie for immunity boost: Just like a human's morning smoothie, but for your dogs! Organic power greens, like kale and parsley, provide antioxidants while organic chia seeds, coconut oil, and sardine oil provide a blend of omega fatty acids and medium-chain triglycerides (MCTs) to support a healthy body. A powerful blend of seven organic medicinal mushrooms known for their immune-boosting goodness is also included.
Omega Mussel Mélange for joint health: Flex your "mussels!" Mussel meat has unique properties that provide a boost of Omega-3 fatty acids, glucosamine, and chondroitin. Organic turmeric and organic raw unfiltered apple cider vinegar further support a healthy skeletal system. Also included is Primal's collagen-rich Pork Bone Broth providing additional glucosamine and chondroitin for superior joint health.
How to Store and Serve
Primal Elixirs make a great addition to any meal including canned, kibble, dehydrated, freeze-dried, and raw foods. It's important to note that Primal Elixirs are intended for intermittent or supplemental feeding only and are not meant to serve as a complete diet.
The elixirs are sold in a frozen state and should be stored in the freezer until ready to use. They should be placed in the refrigerator to defrost for 36 to 48 hours prior to serving and once defrosted, should be stored in the refrigerator and used within seven days after thawing. Thawed products can be portioned into ice cube trays and refrozen to be used later. Pupsicles! Yum!
I like several dollops of Primal Elixirs on top of my meals, but humans should make sure they are serving the correct size to their own pups using the "dollop" size guidelines below:
Small dog: one heaping spoonful
Medium-sized dog: two heaping spoonfuls
Large-sized dog: three heaping spoonfuls
How to Buy
My mom and the trained staff at The Hipster Hound are all HUGE fans of Primal Elixirs. Dog parents can buy them at The Hipster Hound online store for local delivery OR stop by the Diamond Causeway location to pick up all three flavors for their favorite pup!
Woof,
Rex, The Original Hipster Hound>