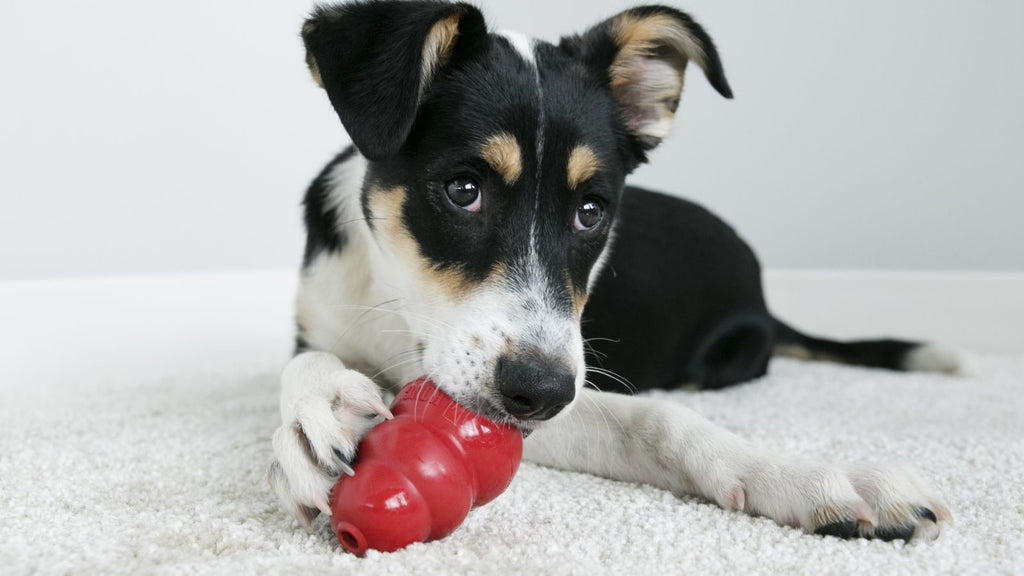 We've had this blog for a while now, so I can't believe I haven't barked about this product yet, but here we go: you have got to get your dog a Kong! My siblings and I each have our own Kongs, and we are obsessed with them - mostly because my mom, Tonya, stuff them with treats and peanut butter…Mmmm! The unique shape and design set Kong apart from other stimulating dog toys. That's why I, Rex, THE Original Hipster Hound, want to let you know all about Kongs!
About Kong Company
The Kong Company knows dogs can chew their favorite toys to bits so it makes sure its pet chew toys are virtually indestructible. (However, dogs should never be left unattended with any toy including Kong toys. Even though they are tough, if parts of a Kong are ingested, they could cause an intestinal blockage!) The rubber snowman-shaped pet toy line Kong was developed by president and CEO Joe Markham as a substitute for his dog's love of eating rocks. The Kong was first produced in 1976 and is sold through pet products retailers like The Hipster Hound. More than 50 million have been sold worldwide!
Kong Classic
The Kong Classic red rubber toy helps satisfy dogs' instinctual needs while providing mental stimulation. Healthy play is important for dogs' physical and mental development, emotions and behavior. By encouraging healthy play and satisfying instinctual needs, this treat-dispensing puzzle toy helps solve chewing, separation anxiety, teething, boredom, weight management, crate training, digging, and barking.
How to Stuff a Kong
A stuffed Kong Classic can keep your dog occupied, provide mental stimulation, and serve as an outlet for your dog's energy. Here's how to do it:
Plug the small hole with a chewy treat or peanut butter.
Stuff dog food or treats inside of the Kong through the large hole. The stuffing should be well-packed so that your dog has to work for it, but not so tightly stuffed that your dog will give up. For dogs who are new to Kongs, make it easy at first by packing loosely and leave a treat sticking out of the large hole to gain his or her interest.
Plug the large hole with more peanut butter, spray cheese, or a larger treat to keep the stuffing inside.
Freeze the Kong or give the stuffed Kong to your dog when you leave the house or hide it for a fun game!
Other Kong Toys
The Hipster Hound also carries many other toys made by Kong:
The Wubba If your dog loves a good old-fashioned game of tug-of-war, the Kong Wubba is the toy for you. This rope dog toy has long, floppy tails that encourage your dog to tug. Wubbas also feature squeakers, which ups the engagement value of this dog toy and encourages your dog to play with it even when you're not available for tug time.
The Cozie is a cute, soft, and cuddly plush toy made with an extra layer of material, so it's extra tough. Cozies are perfect for a game of fetch or as a comfort toy for your furry friend. You can even start a collection of all of the amazingly adorable Cozie characters!
The Hipster Hound: Kong Retailer
From the Kong Classic to all the other fun Kong toys, The Hipster Hound is your source for all things Kong. You can shop at our online store or stop by in person at our Diamond Causeway location to purchase your Kong products today. Our experienced staff will even be happy to share some of their favorite Kong Classic stuffing recipes with you!
Woof,
Rex, The Original Hipster Hound