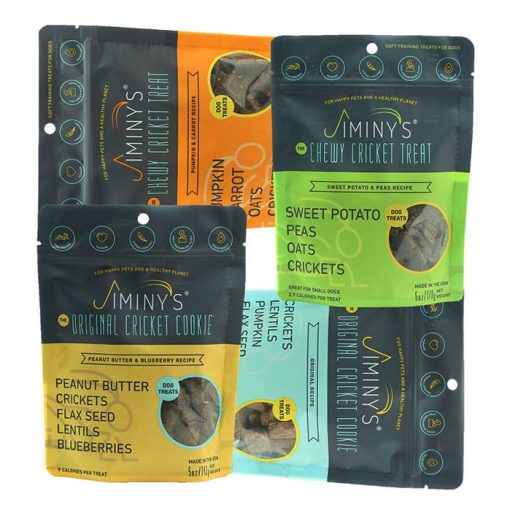 So this might sound strange to you humans, but I've been really into eating CRICKETS lately! Even my siblings love this new treat. Ever since my mom, Tonya, brought them home from her shop at The Hipster Hound, we haven't been able to keep our PAWS off them! But don't be scared, we're not eating these crickets ALIVE. Jiminy's makes dog treats baked with powdered cricket protein. Cricket protein is a SUPERFOOD! Don't take my word for it though. Check out all the details on Jiminy's Cricket Treats below.
Why Crickets?
Dogs and humans have been eating crickets for thousands of years. Crickets are a nutty-flavored superfood with more essential nutrients (like amino acids, protein, omegas, calcium, magnesium, potassium, iron, vitamins B2 & B12, taurine, tryptophan, and fiber) per pound than chicken or beef. Amino acids are important for the body to function well, repair muscles, and provide energy. Crickets are also hypoallergenic, humanely sourced, and better for the environment — using less natural resources and emitting fewer greenhouse gases compared to other animal proteins.
Varieties of Treats
Jiminy's sells a variety of cricket-based dog treats. The original cricket cookies come in the original recipe or a peanut butter & blueberry recipe. While the chewy cricket treats come in a pumpkin & carrot recipe or a peas & sweet potato recipe. All varieties are grain-free, gluten-free, and corn-free with zero antibiotics or artificial colors, flavors, or preservatives. With just a little over 8 calories per treat, every dog can enjoy this tasty, sustainable treat!
Stop by The Hipster Hound at the Diamond Causeway location to ask the trained staff all about the benefits of Jiminy's Cricket Treats or just shop for them online. Your pup will love you even more when you treat him to some CRICKETS!
Woof,
Rex, The Original Hipster Hound