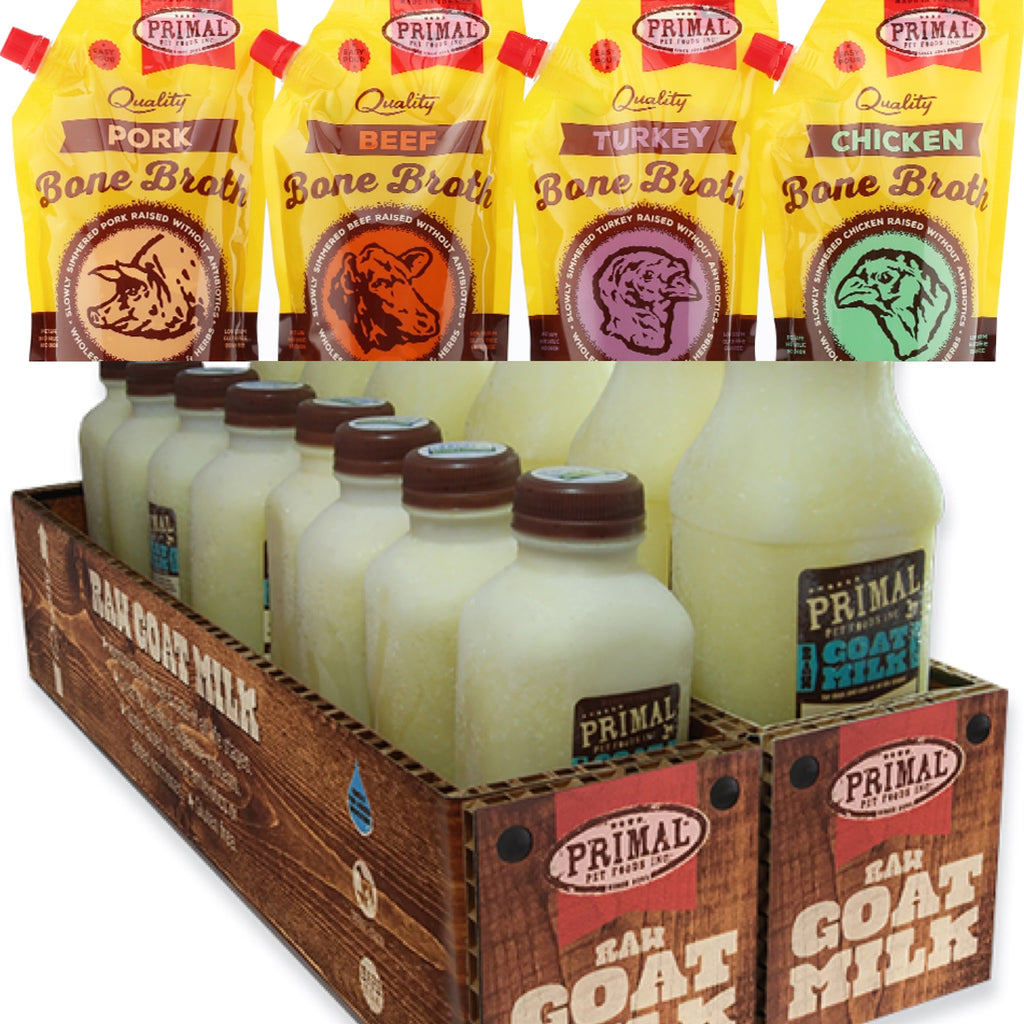 Let's woof about vitamins and minerals. Us dogs aren't getting enough of them from our boring kibble. Even if our humans do feed us delicious and healthy dog food, we may still need an extra boost of supplements. The TASTIEST and EASIEST way is to do that is to add some raw goat milk and/or bone broth as a topper in our meals. That's it! It's that simple! They can both be purchased frozen from The Hipster Hound, but first, let's find out why raw goat milk and bone broth are so good for dogs!
Primal Frozen Raw Goat Milk
Raw goat milk is known as the "universal milk" because it is extremely easy for most mammals to digest - even humans! Goat milk is the complete package with vitamins, minerals, electrolytes, trace elements, enzymes, protein, and fatty acids. Dogs of all stages of life can benefit from raw goat milk in their diet, but it is especially beneficial for dogs who need digestive assistance and immune support, as well as picky eaters and dehydrated pups. Incorporating goat's milk into a dog's diet may help manage unwanted symptoms or even improve digestion. In fact, according to research, goat's milk is healthier and more beneficial than cow's milk.
At The Hipster Hound, my mom, Tonya, sells Primal Frozen Raw Goat Milk, and my siblings and I are HUGE fans - even my cat sisters love it. Primal humanely sources their goat milk from free-range goats, who are ethically raised without antibiotics or added hormones.
Primal Frozen Bone Broth
Bone broth is made after simmering beef bones for 10+ hours. In the process of making bone broth, collagen and cartilage are boiled down, releasing anti-inflammatory nutrients like chondroitin sulfate, glucosamine, and other compounds that help joints stay strong. Additionally, bone broth contains amino acids like glycine, proline, and arginine that all have whole-body anti-inflammatory effects. Finally, the abundance of collagen in bone broth helps structure and strengthen bones. So bone broth helps our bones - go figure! Another huge benefit of bone broth is that it promotes overall gut health from glycine. With other key benefits including liver support, hydration, and moisture, supplementing with bone broth is an easy way to keep any dog hydrated and healthy.
Of course, The Hipster Hound sells Primal Frozen Bone Broth, and this is another supplement that we can't get enough of at home. But humans should make sure not to feed us goat milk or bone broth if we're allergic to the ingredients. The trained staff at The Hipster Hound can always be consulted if a dog parent has any questions about either supplement. Happy supplementing!
Woof,
Rex, The Original Hipster Hound