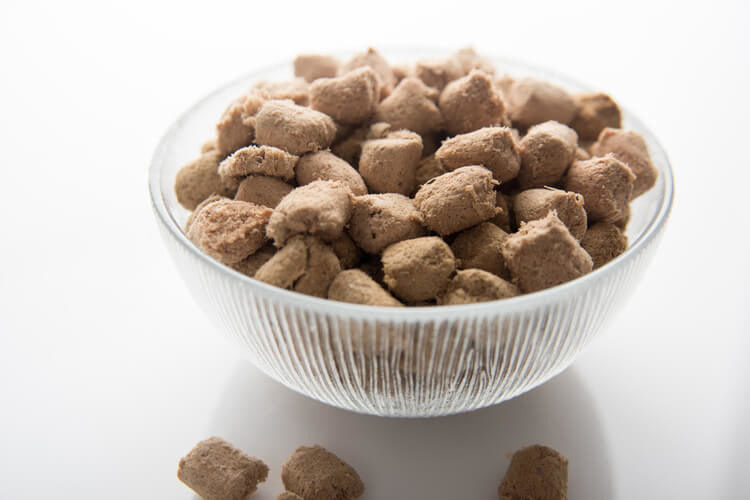 Mmm, mmm, mmm. I just love woofing about food. It's one of my favorite things! Today, I've got freeze-dried food on my mind. Just like the astronaut ice cream my human sister, Lucy, has tried, freeze-dried dog food is made the same way – by removing the water, the food weighs less and takes up less space. My mom, Tonya, sells Primal Freeze-Dried Raw Food Nuggets at The Hipster Hound, and she brings them home for me and my siblings ALL the time. We gobble them up right away, but not only is freeze-dried food tasty, it's also good for us! Don't take my BARK for it though. Read all about the benefits below!
High-Quality Ingredients
Freeze-dried diets typically consist of an extremely impressive slate of ingredients, including muscle meat, organs, and ground bones (some also include freeze-dried fruits and vegetables). Most are entirely grain- and gluten-free, and very few are made with artificial additives.
Raw Diet Alternative
Many freeze-dried feeders begin doing so as an alternative to providing a raw diet. Raw diets can be difficult and laborious to assemble and prepare, and the regular handling of raw meat is a serious and unnecessary risk for most families. But by using a freeze-dried diet, raw food devotees can enjoy greater convenience and safety.
Long Shelf Life
Additionally, freeze-dried foods often have ridiculously long shelf-lives, which makes them handy to keep around for emergencies. For example, you don't want to run out of dog food if you find yourself snowed in for a week or if you live in a hurricane-prone region, in which the grocery store shelves completely empty every time a storm threatens.
Dogs Simply Adore Freeze-Dried Food
Aside from everything else, most dogs find freeze-dried foods to be drool-inducingly delicious. It's also important to note that some dogs will produce much less waste after switching to a freeze-dried diet, thanks to the lack of unnecessary fillers. Much more of the food is converted into new tissue and energy!
Buy Freeze-Dried Food Today!
As I mentioned before, you can purchase Primal Freeze-Dried Raw Food Nuggets on The Hipster Hound website or stop by our Diamond Causeway store for Thirsty Thursday and Frozen Friday this month for free samples of Primal products. My mom and the trained staff can tell you even more about freeze-dried food and how much THEIR own dogs love it too!
Woof,
Rex, The Original Hipster Hound