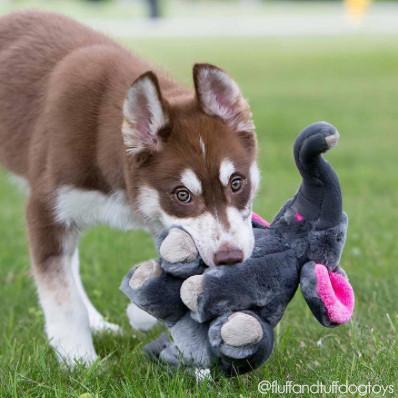 As much as I love talking about yummy, quality dog food and treats, I also love PLAYING. I, Rex, THE original Hipster Hound, am super fun! I have a blast playing with all kinds of toys like balls, rope, and stuffed animals. And one of my favorite times of year is in April when the newest Fluff & Tuff toys get delivered to the store. They come in all different animal shapes, and no matter how hard I tug, chew, and tear, a Fluff & Tuff toy never falls apart! Ever since my mom, Tonya, started carrying them at the store, I've been helping her choose which designs to sell (all of them, of course!). But see for yourself just how great Fluff & Tuff can be below!
About Fluff & Tuff
Fluff & Tuff is committed to the quality and safety of their products, providing exceptional customer service and giving back through product donations and the creation of their annual holiday charity toy, which donates 100% of its profits to charity. They are proud of the superior quality of their products and go to great lengths to maintain those high standards for all of their retailers and their customers.
So what makes Fluff & Tuff so tough? Each toy is made of ultra-plush outer fabric, thick and durable inner mesh liner, and concealed double-stitched seams. Safety is the #1 concern of Fluff & Tuff toys with their non-toxic polyester fill and embroidered eyes (never buttons).
Rex's Favorite Fluff & Tuff Toys
Here are a few of my favorite Fluff & Tuff toys lately. And whenever I get bored, I just find a new animal to play with!
Albert the Monkey: Squirrel monkeys have proportionally the largest brain of any primates, so you will have to work hard to outsmart Albert! Albert's not just smart, he's handsome too, and his long legs and tail are perfect for tossing and tugging.
Tico the Sloth: When it comes to play, there's no rushing Tico. He's a laid back guy on his own timeline and sees the fun in every situation. You will love tugging and tossing his long arms. Afterwards, Tico is always game for a post-play snooze.
Violet the Unicorn: Put a bit of magic in playtime with Violet the Unicorn. She's a unique beauty with her purple plush, white mane, and sparkling silver horn. From group playtime to snuggling, her passion for fun can't be tamed. My sisters, Rosie and Willow, really love Violet. No matter how much they tug on her, Violet has lasted forever!
Where to Buy
To get your paws on Fluff & Tuff toys, you can shop online or visit our Diamond Causeway location for the best variety. Be sure to ask our friendly staff for any recommendations on their favorite Fluff & Tuff toys! Happy squeaking to you!
Woof,
Rex, The Original Hipster Hound