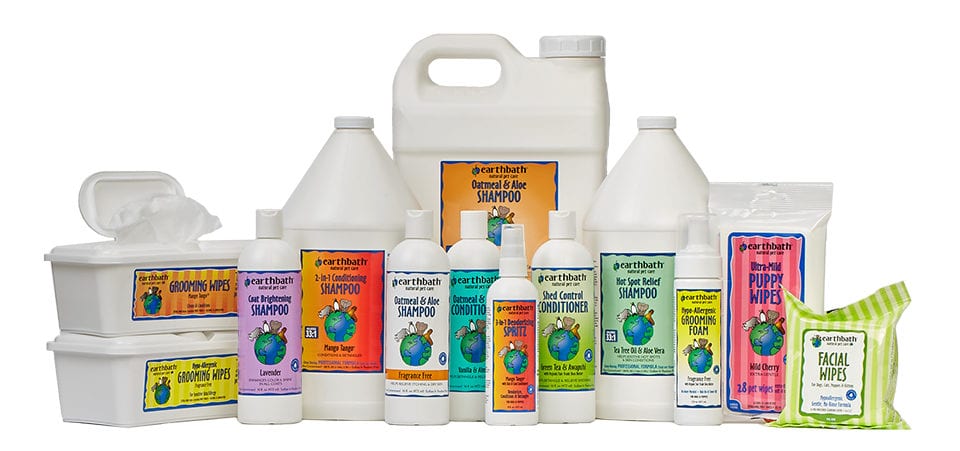 Time to shine the spotlight on another wonderful company with products that help pets like me, Rex, THE Original Hipster Hound: Earthbath. Their lines of shampoos, spritz, and wipes are cruelty free and made in the USA with natural and organic ingredients and no artificial colors. They firmly believe that pets deserve quality products that are non-toxic, paraben free, sulfate free, phthalate free, and phosphate free. Founder Paul Armstrong believes so much in the company's products that he uses only Earthbath products in his own shower!
About Earthbath
From the beginning, Earthbath has been developed and manufactured in California with only the safest, finest ingredients from nature. From humble roots and a local following based on the principles of purity and efficacy, Earthbath grew from four shampoos to a comprehensive line of natural shampoos, wipes, spritzes, and grooming foams that are sold and used by conscientious animal lovers across the nation and around the world. Earthbath's highly concentrated formulas use less water in the manufacturing process, allow for more efficient shipping, and ultimately reduce its carbon footprint.
At The Hipster Hound, we are honored to carry three of Earthbath's product lines: shampoo, spritz, and wipes.
Shampoos
Earthbath's Mango Tango Shampoo will leave your pet's coat and skin looking AND smelling better than ever before! The luscious botanical fragrance of tropical mangoes combined with an exceptionally mild shampoo adds brilliance and shine, leaving coats wonderfully clean, soft, and plush. It will not wash off topical flea applications, and it is safe for all animals over six weeks old.
Spritz
Earthbath's 3-in-1 Deodorizing Spritz naturally conditions and detangles coats, while deodorizing with the fresh botanical fragrance. Organic aloe vera and vitamin E leave the coat exceptionally soft and bright. Then, the soothing scents of the Stress Relief Eucalyptus Peppermint Spray is believed to naturally deodorize, calm, and relieve stress.
Finally, the Hot Spot Relief Spritz is formulated to help provide naturally soothing relief of hot spots, itching, scratching, and skin irritation. It is blended with tea tree oil, which has long been regarded as an effective and beneficial remedy for hot spots, as well as colloidal oatmeal and organic aloe vera, which are renowned for their soothing properties.
Wipes
The Hipster Hound carries a plethora of Earthbath's wipes, including the Green Tea & Awapuhi Grooming Wipes, which safely and easily wipe away dirt and odor between baths. Mild cleansers freshen and deodorize, as the antioxidant properties of green tea leaf extract help protect from environmental damage. Hawaiian awapuhi conditions coat and imparts a healthy shine while aloe vera and vitamin E moisturize coat and skin. While the Ultra-Mild Puppy Wipes handily clean puppies' dirty paws and undercoat, remove dander, drool, discharge, and cling-ons from playing in the unknown!
We even carry the Hypoallergenic Cat Wipes for your finely furred friend. The cat wipes remove dander and saliva build-up, which are the leading causes of both human AND cat allergies. The use of these wipes can help resolve this issue in short order, while leaving your cat or kitten softer, shinier, and smelling better than ever before!
Stop by both of The Hipster Hound locations to talk to our experienced retail associates about all of the incredible Earthbath products that can help you maintain your pets' grooming regimen.
Woof,
Rex, The Original Hipster Hound