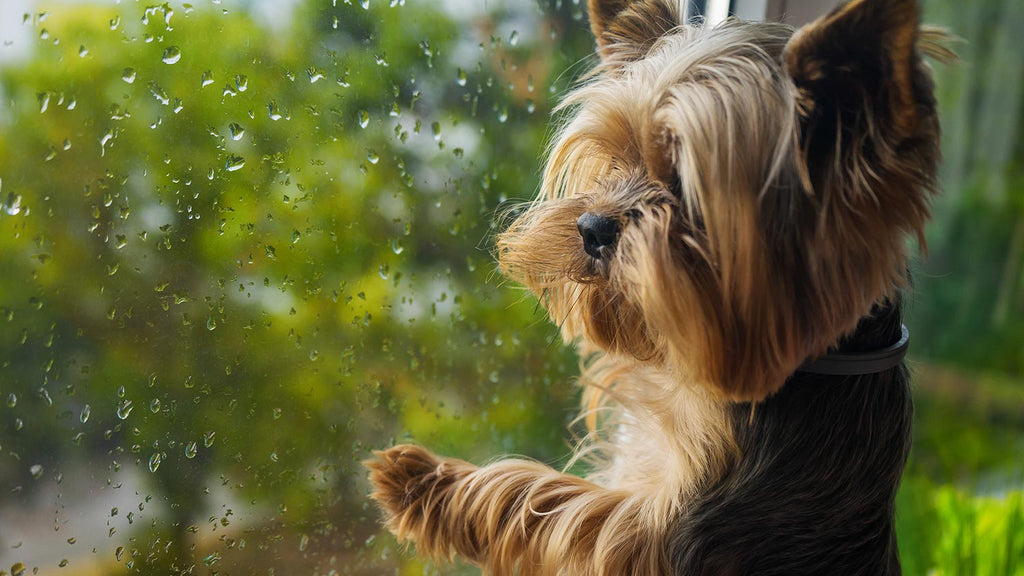 In Savannah, hurricane season is well underway, and it seems like September and October have been the most active months. Over the past several years in particular, The Hipster Hound had to abide by the mandatory evacuations set in place by Chatham County. As THE Original Hipster Hound, Rex, I have had to help my mom, Tonya, with all of our hurricane preparation and evacuation procedures both at the daycare and at home. When it comes to the safety of our clients' pets, we take it very seriously!
Savannah and the surrounding areas are subject to hurricanes, tropical storms/depressions, flooding, and tornadoes. These natural disasters can strike with little or no warning, leaving pet parents with a small amount of time, if any, to prepare. We've all seen the television footage of dogs stranded in a rapidly rising flood, and that is my personal NIGHTMARE! So don't let your pet be left behind: humans need to be prepared long before an emergency like this arises!
Create A Family Emergency Plan
Obviously, your emergency plan should include four-legged family members. In case of an evacuation, study all of the routes backwards and forwards for leaving your home to find safe shelter. Specifically, for the safety of your pet, you should be prepared with:
Car safety restraints: Check out our blog on car safety to learn how to properly restrain your dog in your vehicle while you evacuate.
Collars & tags: Always have your pets wearing his or her collar and tags with the most up-to-date contact information.
Microchip: In the event that you get separated from your pet, a microchip that contains accurate contact information will help reunite you. If your pet isn't microchipped we strongly encourage you to get that done ASAP at your vet or one of The Hipster Hound vet clinics.
Food and water: Don't forget to pack plenty of dog food and extra water specifically for your canine friend.
Medication: A dog's medical needs don't stop during a natural disaster. Be sure to bring all necessary medication from prescription drugs to CBD oil for calming those nerves.
Pet-friendly accommodations: Nothing would be worse than getting to your safe shelter like a hotel only to discover that they do not allow pets. Research and keep an ongoing list of pet-friendly hotels or vacation rentals on your evacuation route that you can get into last-minute during an emergency.
Pack an Emergency Kit
Having your pet's emergency kit pre-packed with some of the items from above will help your evacuation run smoothly. Their kit should include a recent image of your pet, animal first aid items, two weeks' worth of food for each pet (stored in waterproof containers or cans), bedding and toys, harness and leash, medicine, your pet's updated veterinary documents with a list of their prescriptions, as well as your contact info and the info of someone you know who lives outside of the affected area.
Create a Safe Space
Once you are at your safe and secure evacuation destination, your dog's comfort is crucial to their health and happiness. Choose a room that is safe and dog-proof in case you need to spend considerable time indoors. You should even bring his or her favorite bed, blanket, and any toys that would make him or her more at ease. This may be difficult, but managing your stress and anxiety during this time will also help to keep your pet relaxed and calm.
Return Home with Caution
Once the evacuation order has lifted and you return to your home, be aware that your neighborhood and house may have sustained damage. Survey the area carefully before allowing your dog to roam freely without a leash. This is especially true for a fenced in yard. Check the entire perimeter of your fence to see if there is any damage or holes before letting your dog run around the yard. Also, be extra vigilant about wild animals in your neighborhood, as they are often displaced during natural disasters.
The Hipster Hound's Evacuation Policy
At The Hipster Hound, we have many dogs boarding with us at any given time. However, what happens when a mandatory evacuation is issued, but the dog parents are out of town? Well, we find a way to make it work!
Many times, pet parents will quickly come back to pick up their dogs, but sometimes, the humans can't make it back to town in time, so we call their emergency contact to pick them up. That's why we always ask pet parents to have an updated emergency contact every time they schedule boarding. If absolutely necessary, we will evacuate any remaining dogs on the Wag'n Wagon to Wag Atlanta in Atlanta but this is in extreme circumstances as there is limited space on the bus. Ideally you should have someone on standby and available to pick up your dog.
Before scheduling your boarding appointment during hurricane season, give us a call at (912) 436-6560 to learn more about our hurricane evacuation procedures. Stay safe!
Woof,
Rex, The Original Hipster Hound