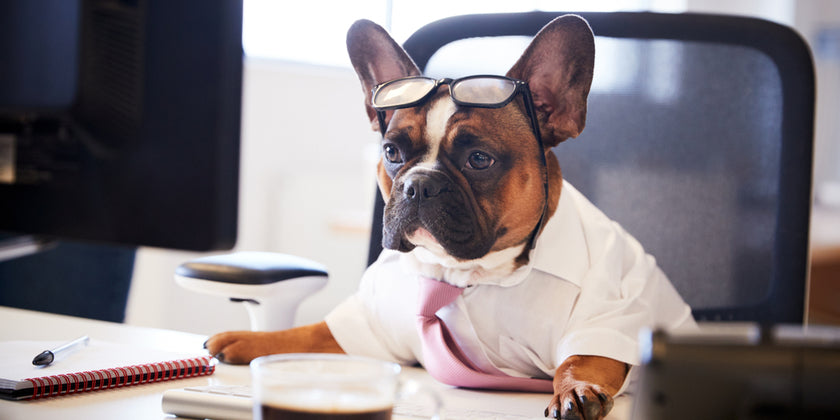 Take Your Pet to Work Week is coming up this month, and I am so excited for everyone else to experience what I get to do all the time: be with my mom, Tonya, while she works at The Hipster Hound! I'm so spoiled because my mom takes me to daycare pretty often, but not a lot of other dogs are as lucky as me. So if your parent's company agrees to observe this holiday, then it's finally a chance to be shown off at work!
What It's All About
Take Your Pet to Work Week celebrates pets! Most humans love pets, and they are willing to talk about them any time of the week. The chance to introduce your pet to your co-workers is a great way to educate and raise awareness about your pet's best pet traits.
The holiday also makes work less stressful, even just for a week. Adding a little bit of change in the daily routine of your office will make people excited to get up and go to work because they can't wait to bring their pets along with them!
And don't forget: Take Your Pet to Work Week is for all kinds of pets. It's not just for cats and dogs. If you have a parrot, a pot-bellied pig, a snake, a goldfish, then go ahead, bring them to work. You just have to make sure that your pet doesn't get aggressive when around new animals and new people to avoid possible incidents.
Best Practices
Get permission: Always get permission before bringing any pet, regardless of the species, to work during Take Your Pet To Work Week. Check with management and co-workers to see if anyone is allergic, afraid of, or opposed to you bringing your pet to work during this week. Be respectful of those you work with and plan an alternate celebration, if necessary.
Coordinate schedules with other co-workers: If your company is participating, the event coordinator should know which co-workers will be bringing in what types of pets and on what day. Depending on your pet type, plan accordingly. If your pet is uncomfortable around or hasn't been exposed to specific pet types, schedule your pet to come in on a different day during the week. Regardless of your pet type, you know your pet best, and if he will experience anxiety or discomfort being in a new environment, you should choose an alternate way to celebrate.
Keep your pet comfortable: To make your participation a success, don't forget your pet's comforts of home. Your needed supplies will vary depending on the type of pet you will bring with you, but be sure you have your pet's food, some type of habitat/carrier/bed, and other toys or supplies that may be needed.
Avoid forcing co-workers to interact with your pet: Remember, pet lovers will make themselves known, but you need a way to keep your pet in your workspace unless management and co-workers have agreed to allow participating pets to roam freely. This may mean keeping your office door closed or having your pet in some type of carrier or crate.
Participate with a purpose: Think of ways to give back to your pet community through your participation. Could you invite a local pet rescue or animal shelter to visit to show off pets available for adoption? Could you use your event as a way to raise funds for a local organization that helps pets looking for their forever homes? The purpose behind Take Your Pet To Work Week is to highlight the wonderful companions these pets make and to promote their adoptions.
Have an exit strategy: By planning ahead, it's likely that you and your pet will enjoy Take Your Pet To Work Week, but have a strategy in place in case your pet shows signs of stress or decides he's not interested in being at work with you. Take him home or plan in advance for your professional pet sitter to transport your pet home at a certain time. Never, under any circumstance, leave your pet alone in a vehicle while you work.
And hey, if your company doesn't let you bring your pet to work that week, don't sweat it. The Hipster Hound is still open for daycare, and you can always drop him off for a fun day at our "office!"
Woof,
Rex, The Original Hipster Hound