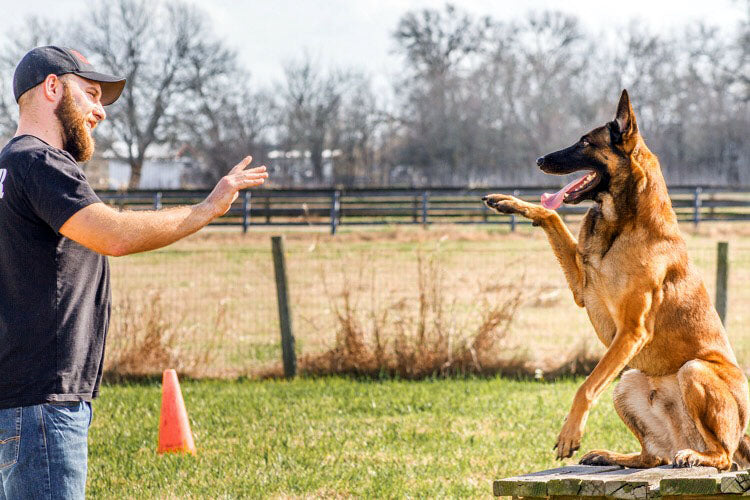 Another year, another monthly pet holiday! January is National Train Your Dog Month. As THE Original Hipster Hound, my dog friends, siblings, and I have plenty of experience with obedience training. First, our parents have taught us some basic commands and tricks at home. Sometimes those work, but luckily, The Hipster Hound offers the option of training with a professional. They have partnered with dog trainer extraordinaire, Ben Hutchinson of At My Side Dog Training, to develop the four-week Beginner Dog Training program. Read all about how you can celebrate National Train Your Dog Month on your own or with The Hipster Hound.
At Home
There's no better way to celebrate the bond between human and canine than by introducing some fun into your daily routine. Tricks training is a great way to do that. National Train Your Dog Month was established six years ago by the Association of Professional Dog Trainers, to remind new owners that, like children, dogs need socialization and schooling to become well-behaved companions.
Tricks are easy to teach and they both build upon and reinforce skills you and your dog have mastered—or are still working on—in basic obedience work. They are also good exercises, stretching and working muscles that are not used in day-to-day activities like walking and running. Another benefit is that a dog performing a trick is a surefire crowd pleaser, and dogs, like the rest of us, thrive on applause.
Set yourself a challenge of teaching your dog two tricks a week for the next four weeks. By February, your four-legged pal could be the star of your own little circus. Start with two easy tricks this week and make sure to check back at the beginning of every week for two more tricks.
Video: Teach Your Dog How To Shake
Link: Teach Your Dog to Play Peekaboo
With Ben at The Hipster Hound
The Hipster Hound course is perfect for dogs five months or older who need to learn basic manners. During the four week course, they will learn how to sit and stay, come when called, stop jumping on guests, not pull on their leashes, and more. The class is purposely kept small with only five dogs total for one hour each week. Ben and The Hipster Hound do not use physically or mentally abusive training methods. Instead, they use balanced training by rewarding good behavior and correcting bad behavior in an understandable and proportionate way. Treats are initially used as the primary motivator, but dog parents will learn other reward methods to get the results that everyone wants.
To schedule your pup in the next class, call our Diamond Causeway store at (912) 349-7640 or sign up online.
Woof,
Rex, The Original Hipster Hound