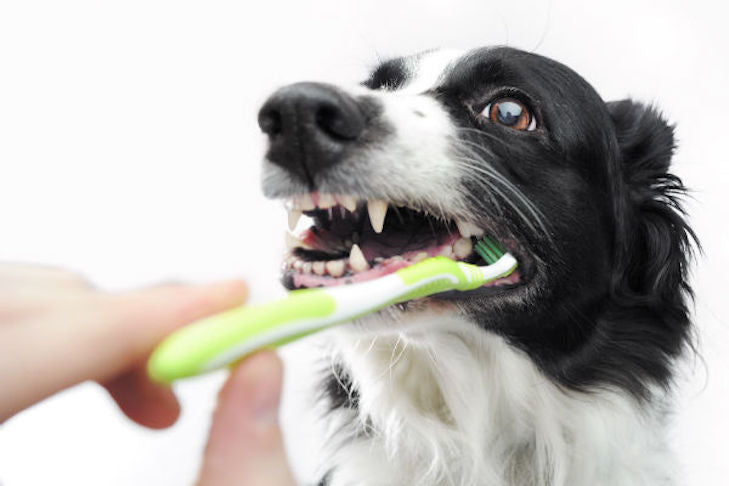 February is National Pet Dental Health Month! And if you don't think dogs' dental health is that important, consider this: According to the American Veterinary Dental Society, 80% of dogs will develop some form of oral disease by the age of three. Wow, that seems too young! Luckily, my dog friends and I take our oral health very seriously because not brushing our teeth regularly could lead to more severe secondary diseases like heart or kidney disease. No thanks! So check out the symptoms of dental issues below and how to prevent them.
Symptoms and Prevention of Dental Disease in Dogs
Bacteria, food particles, and saliva in our mouths combine and collect between the gums and teeth, which progresses into tartar buildup. Over time this can develop into periodontal disease, which erodes at the gums and can result in bad breath, bleeding gums, and pain. Dogs with developing gingivitis and periodontal diseases often paw at their faces or mouths frequently, have excessive drool, and may also exhibit unwillingness to eat harder foods.
As with many health issues, prevention is always the best medicine. One way you can take a proactive role in preventing oral disease in your dog is by using an important tool that many parents neglect to purchase for their four-legged friends: a toothbrush! Unfortunately, only about one percent of dog parents brush their dogs' teeth. Bummer.
Dog parents should use a soft-bristled toothbrush to clean their pups' teeth daily in order to remove any food particles and prevent the build up of tartar and plaque deposits. Also, it's vitally important to make sure they only use toothpaste specially formulated for dogs.
Oral Health at The Hipster Hound
To help dog parents keep their canine friends' teeth pretty and clean, The Hipster Hound offers a variety of products. Of course, we have toothbrush kits for both small and medium/large dogs. Then, as an extra step in periodontal disease prevention, parents can introduce a water additive into their dogs' drinking bowls, and they won't even notice it! Finally, who doesn't love treats that also keep your teeth clean? The cleaning dental chews are super popular and so delicious! Shop for all of The Hipster Hounds' oral health products on the website or at their store locations today! And for dogs that come for boarding or daycare, the PAWsome employees at The Hipster Hound will brush your dog's teeth as a special add-on to their day!
Woof,
Rex, The Original Hipster Hound