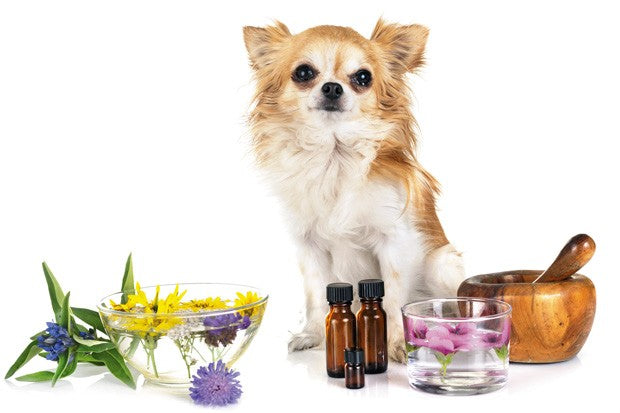 Being THE original Hipster Hound, Rex, part of my responsibilities are to stay up to date on all of the latest trends in the world of pets. I'm the go-to expert when it comes to knowing what's hot right now and what's not. Something that has been trending lately is using and diffusing essential oils. Humans are using them for their health and in their homes, but they're also using them on their pets! However, did you know that essential oils can be dangerous to animals? So let me break it down and go through the DANGEROUS ways and SAFE ways to use essential oils around pets.
First Things First: What Are Essential Oils?
Essential oils are made from highly concentrated plant substances. They aren't true oils in the chemical sense of long chains of fatty acids. Rather, essential oils are derived from certain volatile compounds within a plant.
Humans use essential oils for cleaning, relaxation, and health, among other reasons. For a long time, essential oils have been a popular home remedy for a number of maladies including nasal congestion, anxiety, sore muscles, and even skin conditions. And with the recent rise in popularity of oil diffusers—an easy way to release essential oils into the home—there has been an increase of alarm about how these oils may affect animals.
Essential & Cats
Cats metabolize essential oils faster than dogs, so they can't be exposed to diffused oils for the same length of time as dogs can. Also, unlike dogs, it's dangerous to apply most essential oils directly to cats' bodies.
Oils that are harmful to cats include, but are not limited to:
Wintergreen
Sweet birch
Citrus
Pine
Ylang ylang
Peppermint
Cinnamon
Pennyroyal
Clove
Eucalyptus
Tea tree
Thyme
Oregano
Lavender>
Essential Oils & Dogs
Oils that are harmful to dogs include, but are not limited to:
Cinnamon
Citrus
Pennyroyal
Peppermint (OK if diffused or diluted, but dangerous if applied directly to body in pure form)
Pine
Sweet birch
Wintergreen
Ylang ylang
Anise
Clove
Tea tree (OK if diffused or diluted, but dangerous if applied directly to body in pure form)
Thyme
Juniper
Yarrow
Garlic
Symptoms of Essential Oil Poisoning in Pets & What to Do
There are several common symptoms of poisoning in pets:
Difficulty breathing
Drooling
Fatigue
Weakness
Difficulty walking or stumbling
Muscle tremors
Redness or burns on their lips, tongue, skin or gums
Vomiting
Essential oils and animals can be a harmful combination. Just like poisoning in humans, the key to reacting to poisoning in your pet is to act FAST. Seek medical treatment immediately. Call your veterinarian, or contact the Pet Poison Helpline at (800) 213-6680.
Using Essential Oils Safely
If you want to use essential oils with your dogs, there is an easy way to do it safely: Talk to your veterinarian. Your veterinarian will let you know which oils are potentially harmful and can also provide you with information about the best carrier oils to properly dilute essential oils for dogs, as well as appropriate dosages.
Woof,
Rex, The Original Hipster Hound